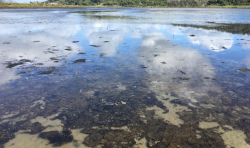 25 Sep 23 - Toi Moana Bay of Plenty Regional Council and iwi collective Te Wahapū o Waihī are partnering to restore a coastal wetland on the margins of the Waihī Estuary

17 Jul 23 - The government has announced $6.4 million of funding towards low-emissions marine and off-road vehicles, which will lead to a further $18.2 million from businesses transitioning to clean energy transport.

29 May 20 - New Zealand's government has been praised for listening to health experts in its pandemic response, but when it comes to dealing with pollution of the country's waterways, scientific advice seems less important.

28 May 20 - Dairy farmers will have to disclose how much synthetic nitrogen fertiliser they are putting on their land under new rules expected to clean up waterways and cut greenhouse gas emissions.
16 Apr 20 - New Zealand has insufficient information to accurately predict the impact climate change will have on the country's waterways and water supplies, a new report out today is warning.

23 Mar 20 - Decades of chronic underfunding of water infrastructure is putting many countries at worse risk in the coronavirus crisis, experts said as the UN marked World Water Day.

6 Mar 20 - Scientists know so little about how storms affect the delicate balance of lake ecosystems that we might be unable to protect them from the effects of climate change, says a NIWA academic.
---
13 Feb 20 - An international team of scientists has developed a cheap way to provide fresh water to thirsty communities by making seawater drinkable without using electricity.
10 Feb 20 - Canadian scientists have identified a new source of energy, wealth and nourishment being lost each day in every city, town and municipality on the planet: a great river of wastewater.
10 Dec 19 - A quarter of the world's population is at risk of water supply problems as mountain glaciers, snow-packs and alpine lakes are run down by global heating and rising demand, according to an...
5 Dec 19 - Voids left as glaciers vanish could be used to store spring snowmelt and rainfall to save the valleys below from summer droughts.
9 Aug 19 - A quarter of the world's population across 17 countries are living in regions of extremely high water stress, a new report reveals.
9 Jul 19 - Rural communities relying on rain on their roofs for water could be at more risk of disease as the climate warms, new research shows.
25 Feb 19 - If Jesus were alive today, he might reconsider a baptism in the river Jordan - there's a good chance he'd pick up an eye infection.
15 Feb 19 - While climate change makes dramatic changes to weather and ecosystems on the surface, the impact on the world's groundwater is likely to be delayed, representing a challenge for future generations.
25 Jan 19 - Climate change might be creating a groundwater "time bomb" as the world's underground water systems catch up to the impacts of global warming.
5 Sep 18 - The World Bank has launched a Sustainable Development Bond series to raise awareness of the importance of ocean resources.
18 May 18 - Scientists voice new concerns about water shortages as data reveals swathes of the globe are drying out.
21 Mar 18 - More than five billion people could suffer water shortages by 2050 due to climate change, increased demand and polluted supplies, according to a UN report.
---