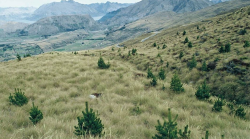 24 Oct 23 - The Parliamentary Commissioner for the Environment has suggested a levy on forestry companies to fund efforts to combat wilding pines.

10 Oct 23 - Foresters have filed a judicial review aiming to stop the government's new fee system for forestry in the Emissions Trading Scheme, which they say will increase costs by several thousand percent.

5 Oct 23 - The government has proactively released cabinet papers on controversial new charges for forestry in the Emissions Trading Scheme.

4 Oct 23 - A group that petitioned for a Ministerial inquiry into land use in Tairāwhiti has welcomed new rules for exotic tree planting, however foresters say that the regulations will lead to less forest planting and could compromise climate change targets.

3 Oct 23 - The government is defending new charges in the Emissions Trading Scheme, which foresters say will discourage planting, and some say could be open to legal challenges.

22 Sep 23 - Foresters say that new charges for forestry in the ETS will penalise sustainable forestry and disincentivise planting when it is most needed.

4 Sep 23 - Fishing giant Sealord is investing $10 million over the next ten years in a carbon offsetting programme that it says will develop underutilised Te Arawa land in the Rotorua region into permanent forest.
---
27 Jul 23 - Foresters have welcomed the government's reset of Emissions Trading Scheme auction settings, saying it should incentivise forestry and wood processing investors for the embattled industry.
3 Jun 22 - Applications to register post-1989 forest grew by more than 400% from 296 in the last quarter of 2021 to 1304 in the first quarter of 2022.
24 Feb 22 - CABINET has approved changes to the Overseas Investment Act that will make it harder for overseas buyers to convert farmland to forestry, a move the Forest Owners Association says could jeopardise...
21 Sep 21 - Decaying wood releases around 10.9 gigatons of carbon worldwide every year, according to a new study by an international team of scientists.
18 Feb 21 - New Zealand's vast native forests may yet help the country meet its emissions reduction commitments under the Paris Agreement.
8 Dec 20 - Greater Wellington Regional Council will debate today whether it should sell millions of dollars worth of carbon credits or hold them and wait for prices to go higher.
26 Nov 20 - Norway is doubling the price it guarantees developing nations to keep their tropical forests standing, in a step to slow catastrophic losses and encourage big companies to invest far more in nature...
23 Nov 20 - One of New Zealand biggest carbon farmers say New Zealand can have its carbon cake and eat it too.
18 Nov 20 - The great climate change challenge should consider the world's trees.
23 Oct 20 - Forests are the planet's biggest carbon "sink" – absorbing more carbon dioxide from the atmosphere than they emit – but their contribution to cooling the earth's climate is currently not fully...
9 Oct 20 - A venture pushing to develop a $160 million biorefinery near Gisborne believes the project can help fill a long-standing gap in the country's forestry research sector.
18 Sep 20 - Details of the Government's response to concerns about farmland being converted to carbon forests are starting to emerge.
---