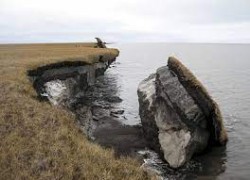 Today 10:30am - The actual impact of anthropogenic climate change has been undermined till now, claimed a new report published in the scientific journal Proceedings of the National Academy of Sciences.

Today 10:30am - Several major oil companies, including BP and Shell, periodically publish scenarios forecasting the future of the energy sector. In recent years, they have added visions for how climate change might be addressed, including scenarios that they claim are consistent with the international Paris climate agreement.

Today 10:30am - One part of Ethiopia is facing the worst drought in four decades and another is hit by flooding. Millions of people are at risk as climate change causes too much and too little rain.

Today 10:30am - The multiple forest fires that have been raging in France since the beginning of summer have released record amounts of carbon into the atmosphere, according to satellite data, and fires in Spain in mid-July also helped break records for carbon emissions. Fuelled by global warming, the blazes are reducing the number of trees available to absorb carbon, further threatening ecosystems.

Today 10:30am - US investment giant BlackRock is planning to invest at least $1 billion in big battery projects in Australia after agreeing to buy out Melbourne-based Akaysha Energy and its portfolio of at least nine projects in the country's main grid.

Today 10:30am - Along the tree-lined sidewalks of Tel Aviv's Atidim Park, a business and commercial district in the north of the city, a curious new addition to the urban canopy arrived a few months ago.

Tuesday - \Australian scientists have put a dollar figure on the cost of recovery and restoration of native flora and fauna after the 2019-2020 summer bushfires.
---
Tuesday - Massachusetts' Republican governor, Charlie Baker, signed a sweeping climate and energy bill into law last week, approving an array of policies intended to advance the state's goal of reaching...
Tuesday - Is the world making progress on tackling climate change? Or is it stalling?
Tuesday - Wasim Ali, 45, lived in one of the 55,000 houses destroyed by the deadly Super Cyclone Amphan in May of 2020. The tropical storm whipped up a tidal surge that swept away his house and razed his small...
Tuesday - Norway will have to phase out some of its old oil and gas fields prematurely to achieve its 2030 climate goals, unless it can use carbon-free power on more offshore platforms to cut their emissions,...
Tuesday - As US President Joe Biden is set to host leaders of Pacific island countries at the White House in September, island nations will be watching how seriously his administration takes their calls for...
Monday - The US's first comprehensive climate law, expected to be sealed with a vote in the House of Representatives on Friday, will not look anything like the program imagined by either climate economists or...
Monday - To travel through Stuttgart is to visit past sins and glimpse a promising future. This German manufacturing hub is where the gas-powered automobile was invented in 1886. Porsche and Mercedes still...
Monday - Australian Climate Change Minister Chris Bowen has called for China and the United States to resume climate talks despite rising tensions between the countries over the status of Taiwan.
Monday - Climate activists in the south of France have damaged lawns and filled golf course holes with cement, protesting against golf courses' exemption from water bans as the country faces its most severe...
Monday - Climate change is a real problem. Human caused outputs of greenhouse gases like carbon dioxide and methane are the main driver of an unprecedented rise in global average temperatures at a speed never...
Monday - An estimated 116 sea walls will need to be constructed to protect around 160 Fijian communities from the drastic effects of climate change.
Friday - SPOT NZUs opened at $80.10 bid and $80.50 offered on CommTrade this morning, after last fixing at $80.25.
---