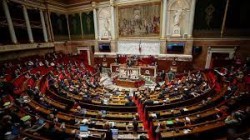 Wednesday - France's parliament yesterday approved a compromise climate bill that was intended to transform travel, housing and industry but which environmental activists said doesn't go fast or far enough to slash the country's carbon emissions.

19 Jul 21 - "The German language hardly knows any words for the devastation that has been caused here," German Chancellor Angela Merkel said. Before adding, the force of this weekend's storms suggested they had something to do with climate change.

15 Jul 21 - The European Union has announced a raft of climate change proposals aimed at pushing it towards its goal of becoming carbon neutral by 2050.

15 Jul 21 - Dutchman Gijs Schalkx harvests methane from ponds — by hand — and uses it to power his moped.

13 Jul 21 - Former EU climate commissioner Connie Hedegaard and former WTO director-general Pascal Lamy are warning that the addiction of some of Europe's industries to climate subsidies risks sparking a trade war.
13 Jul 21 - The European Union is due to propose an unprecedented overhaul to its carbon market this week, seeking to put a price on shipping emissions for the first time.

9 Jul 21 - The European Union has drafted plans to build up forests, grasslands and other natural "carbon sinks" that absorb carbon dioxide from the atmosphere to help curb climate change.
---
9 Jul 21 - Researchers have proposed a scheme that treats carbon emissions like financial debt.
8 Jul 21 - Even if European carbon prices more than tripled to 200 euros ($236), hydrogen from renewable energy would still struggle to compete with fossil fuels without further government support.
8 Jul 21 - The Sami people of Northern Sweden say blocking out the sun with reflective particles to cool the earth is the kind of thinking that produced the climate crisis in the first place
7 Jul 21 - France's top administrative court has ordered the government to take "all necessary additional steps" within the next nine months to enable it to reach its climate crisis targets or face possible...
7 Jul 21 - The European Union says it will harness banks and markets to funnel hundreds of billions of euros annually into sustainable investments and create the first "climate-neutral continent" by 2050.
6 Jul 21 - The EU faces an uphill battle to convince trading partners that the world's first levy on carbon imports is fair, workable and a necessary part of the bloc's attempted green revolution as opposed to...
6 Jul 21 - A new Eurobarometer survey shows that European citizens believe climate change is the single most serious problem facing the world.
30 Jun 21 - One in every nine new cars sold in Europe last year was an electric or plug-in hybrid vehicle, with low-emission car sales surging even as the COVID-19 pandemic knocked overall vehicle sales.
29 Jun 21 - European Union countries yesterday gave the final seal of approval to a law to make the bloc's greenhouse gas emissions targets legally binding, as EU policymakers prepare a huge new package of...
25 Jun 21 - To a flurry of online applause and waving hands, citizens from across Germany agreed Wednesday night on more than 80 ways for the country to meet its commitments to slash emissions under the 2015...
23 Jun 21 - France is striving to confirm its position as a global leader in corporate climate disclosures with a new set of binding targets that require investors to declare how green their assets.
16 Jun 21 - The European Commission is setting up a fund to support vulnerable households whose fuel bills increase as a result of its plan to expand carbon pricing to transport and buildings' heating systems.
---