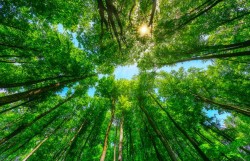 Friday - Yesterday Verra, the Washington-based non-profit that sets voluntary carbon credit standards, said it is immediately stopping the practice of creating blockchain tokens or instruments based on retired credits

Thursday - The U.S. government promised Native tribes in the Pacific Northwest that they could keep fishing as they'd always done. But instead of preserving wild salmon, it propped up a failing system of hatcheries. Now, that system is falling apart.

Thursday - A lawsuit by the state of Massachusetts accusing ExxonMobil of misleading the public about climate change can go forward, the state's highest court has ruled. Massachusetts' Supreme Judicial Court on Tuesday rejected a bid by ExxonMobil to dismiss the lawsuit.

Wednesday - California's environmental achievements are something to behold. The state ranks first in the U.S. for growth in solar power generation and battery storage. It's the national leader in cumulative electric vehicle sales and public EV charging stations. And it's one of a growing number of states that aim to run entirely on carbon-free energy in the coming decades – a goal it briefly met, for about 15 minutes, on April 30.

Tuesday - Banking giant HSBC has reportedly suspended a senior banker after he dismissed climate change warnings as "unsubstantiated" and accused bankers of overstating global warming risks.

Monday - The US government is investing in machines that suck giant amounts of carbon dioxide out of the air in the hopes of reducing damage from climate change.

20 May 22 - Every year, California dairy farms emit hundreds of thousands of tons of the potent greenhouse gas methane, which gets released when livestock operations pool manure in open-air lagoons.
---
18 May 22 - A new survey reveals what private sector US organisations are currently spending on measuring and managing key climate change data and disclosure activities
16 May 22 - California's carbon market was supposed to be a model for the US, harnessing the power of capitalism to fight climate change in the world's fifth-biggest economy.
9 May 22 - In November 2018, the Green New Deal became a rallying cry for climate activists when members of the Sunrise Movement occupied House Speaker Nancy Pelosi's office and adopted the slogan as their...
6 May 22 - The annual general meetings of banking giants Barclays and Standard Chartered were disrupted by climate activists calling for heightened climate targets, with shareholders failing to align with...
5 May 22 - Renewable electricity provided just shy of 100% of California's electricity demand on Saturday, a record-breaker, officials said, much of it from large amounts of solar power now produced along...
5 May 22 - Sen. Joe Manchin's bipartisan energy gang is trying to breathe life into a carbon border adjustment, but it is still struggling with the same political problems that have dogged past efforts to slap...
4 May 22 - The bombshell draft opinion signaling that the Supreme Court is about to overturn Roe v. Wade has implications that reach far beyond abortion access and could affect environmental law and climate...
2 May 22 - The US Postal Service is facing lawsuits from 16 states and several environmental groups challenging its decision to buy tens of thousands of gasoline-powered delivery vehicles instead of electric...
28 Apr 22 - The Biden administration is scrapping old-fashioned incandescent light bulbs, speeding an ongoing trend toward more efficient lighting that officials say will save households, schools, and businesses...
26 Apr 22 - The man who died after setting himself on fire outside the Supreme Court building on Friday sacrificed his life to protest climate change, according to friends posting on social media.
26 Apr 22 - President Joe Biden's ambitions to finally put the U.S. on the path to confront climate change are crashing into an election-year scramble to lower gas prices and demonstrate tangible economic...
22 Apr 22 - Giant global asset managers are still dumping tens of billions of dollars into new coal projects and hundreds of billions of dollars into major oil and gas companies.
---