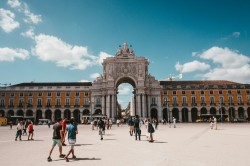 28 Nov 23 - For nearly a week, the country of 10 million met customer needs with wind, hydro and solar — a test run for operating the grid without fossil fuels.

17 Nov 23 - Greenhouse gas emissions in the EU fell by more than 5% in the second quarter of 2023, with the biggest decline recorded in electricity and gas supply.

16 Nov 23 - Tens of thousands of protesters marched through Amsterdam on Sunday demanding immediate action against climate change, 10 days before the country holds a general election.

15 Nov 23 - Climate change is creating a "whiplash effect", with drought-prone areas flooding and wet areas drying out. Researchers say it is having a devastating effect on millions living in poverty.

13 Nov 23 - France has unveiled a new strategy for climate action with a view to slashing its carbon emissions by 55 percent compared to 1990 levels by the end of this decade.
3 Nov 23 - Ireland's environment minister made the case for the World Bank to administer any agreed climate loss and damage funding.

26 Oct 23 - A Spanish music director has adapted Antonio Vivaldi's "The Four Seasons" to the grim reality of global warming.
---
20 Oct 23 - EU countries' climate ministers approved the bloc's negotiating position for this year's U.N. COP28 climate summit, agreeing to push for a world-first deal to phase out CO2-emitting fossil fuels.
12 Oct 23 - Developed by a Japanese botanist, the Miyawaki method of reforestation has taken root in a wide range of landscapes.
6 Oct 23 - The pontiff's latest decree urges Western countries to do more to avert climate disaster.
5 Oct 23 - Cheap, disposable clothing is causing an environmental disaster. Now, the home of haute couture is chipping in for its citizens' garment repairs.
4 Oct 23 - Public climate financing from Germany for poorer countries reached a new record level last year, already surpassing the 6-billion euro target set for 2025, the government has said.
3 Oct 23 - The EU's effort to become climate neutral is kicking into high gear — as of Sunday the bloc's carbon border tax enters a trial period, which is likely to raise tensions with key trading partners.
3 Oct 23 - A government beholden to the radical right is a warning that the green transition can go into reverse.
3 Oct 23 - Switzerland's glaciers suffered their second worst melt rate this year after record 2022 losses, shrinking their overall volume by 10% in the last two years.
29 Sep 23 - "What I felt was fear," says Claudia Duarte Agostinho as she remembers the extreme heatwave and fires that ripped through Portugal in 2017 and killed more than 100 people. "The wildfires made me...
28 Sep 23 - Banks including some of Europe's largest lenders have helped fossil fuel companies to raise more than €1tn from the global bond markets since the Paris climate agreement.
15 Sep 23 - From urban swimming to fixing leaks to public fountains, France's capital is getting smart about its most precious resource.
12 Sep 23 - Police deployed water cannons to disperse thousands of climate activists protesting on a highway in the Netherlands to demand an end to government subsidies for the fossil fuel industry.
---