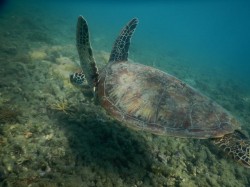 26 Jul 21 - The Conversation: After much anticipation, the World Heritage Committee on Friday decided against listing the Great Barrier Reef as "in danger".

23 Jul 21 - New research confirms Australia's offshore wind resources offer vast potential both for electricity generation and new jobs

16 Jul 21 - Australia's ruling Coalition lashed out yesterday at the European Union's proposed carbon border tariff as a new climate plan from Brussels added to growing international pressure on Canberra to do more to tackle climate change.

5 Jul 21 - The top US diplomat in Australia has declared both countries need to set "more ambitious climate goals" and tackle the climate crisis "head on", as international pressure mounts on the Morrison government to act.

2 Jul 21 - Australia has been ranked dead last for climate action in the latest Sustainable Development Report, which assesses the progress of countries towards achieving the Sustainable Development Goals.

29 Jun 21 - GLOBAL peatlands store more carbon than is naturally present in the atmosphere but are under pressure from drainage-based agriculture.

23 Jun 21 - Australia's government has lashed out after a United Nations report claimed it had not done enough to protect the Great Barrier Reef from climate change.
---
22 Jun 21 - THE CONVERSATION | Australia's top economists overwhelmingly back government measures to speed the transition to electric cars in order to meet emission reduction targets.
16 Jun 21 - Australia's resources minister, Keith Pitt, is urging oil and gas producers to turn the "spotlight" on environmental groups campaigning against an expansion of the fossil fuel industry on climate...
15 Jun 21 - Australia has become even more isolated on climate change after the heads of the world's largest economies agreed to end government support for coal-fired power stations by the end of the year.
9 Jun 21 - The Australian government picked six carbon capture, use and storage projects to receive a total of A$50 million ($39 million) in funds as it looks to accelerate development of the technology to cut...
9 Jun 21 - Getting to net-zero greenhouse gas emissions and 100% renewable energy might seem the end game for climate action. But what if, like Tasmania, you've already ticked both those goals off your list?
2 Jun 21 - Climate change will cost a young Australian up to $245,000 over their lifetime, a landmark court case revealed.
28 May 21 - The Federal Court of Australia has found the environment minister, Sussan Ley, has a duty of care to protect young people from the climate crisis in a judgment hailed by lawyers and teenagers who...
26 May 21 - More than six in ten Australians – 63% – support a ban on new coal mines opening in Australia, according to the Lowy Institute's Climate Poll 2021.
18 May 21 - MEDIA RELEASE - A group of eminent scientists has urged Australian governments, Federal and State, to adopt a zero pollution target for air, water and land.
18 May 21 - We've long known that cooking with gas is bad for the environment but a new Australian study has shown it could be as bad for child health as smoking in the home.
17 May 21 - Boris Johnson urged Scott Morrison to sign up to net zero emissions by 2050 during a phone call held on the same day the British Prime Minister's climate chief said it was time to "consign coal power...
13 May 21 - In her new book, reporter Marian Wilkinson uncovers the network of politicians, business leaders and others who have wielded huge influence over Australia's climate policy for more than two decades.
---