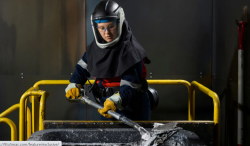 25 Mar 22 - Apple has announced that it will be using carbon-free aluminum in future products, with the latest iPhone SE in line to take advantage of the new environmentally friendly manufacturing process.

20 Oct 21 - Neon yellows, soothing blues, and revitalizing greens: the average supermarket aisle is a riotous, colorful battle for a customer's attention, according to Dr. Brian Cook, a senior researcher at the University of Oxford.

10 Aug 21 - Leading expert Prof Manfred Curbach tells GCR how 'carbon concrete' cuts CO2 emissions by 50% and could spark construction's sustainability revolution.

31 Mar 21 - The country's largest building company is calling for tariffs to protect local manufacturers from unfair competition from imports with higher carbon footprints – and the Government says it is listening.

30 Mar 21 - Greenhouse gas emissions at New Zealand's only cement-manufacturing plant will be cut by 13,000 tonnes a year – and it's all down to tyres.

17 Feb 21 - The country's largest building company says emissions have returned to normal in the wake of the covid-19 pandemic shutdown.

16 Feb 21 - Bill Gates exudes optimism in discussing the world's ability to tackle climate change – until he hits on manufacturing. About that, he is worried.
---
5 Feb 21 - An American company is experimenting with replacing coal with electrons to produce emissions-free steel.
26 Nov 20 - One of New Zealand's largest emitters has made it on to the Dow Jones Asia-Pacific Sustainability Index.
24 Nov 20 - From the street, you wouldn't be able to tell a net-zero or passive house from any other recently built home. Even from the inside, the only visible clues are thick walls and deep windowsills. Only...
13 Oct 20 - Luxembourg company ArcelorMittal produces more steel than any other company. It is also taking a leading role in developing technologies to reduce carbon dioxide emissions from steel-making.
4 Sep 20 - Unilever says it will invest €1 billion eliminating fossil fuels from its cleaning products.
2 Sep 20 - Global production of zero-emissions steel has taken a massive step forward, with a world-leading Swedish project completing the construction of a world-first fossil-free steel pilot plant in Luleå,...
25 Aug 20 - Scientists have developed a method to 3D-print greener buildings using local soil that they say has the potential to revolutionise the construction industry.
9 Jul 20 - One of New Zealand's biggest greenhouse gas emitters is closing operations in New Zealand, potentially cutting the country's missions by more than 1.5 million tonnes a year.
6 Jul 20 - New Zealand's only cement producer is calling on local and central authorities to help it persuade the construction sector to accept lower-emissions cement.
6 Jul 20 - The Environmental Defence Society is taking the operator of the Bluff aluminium smelter – one of the country's largest emitters of greenhouse gases - to court over waste dumped in the old paper mill...
12 Jun 20 - Government decisions that have pushed carbon prices up 28 per cent in eight days of trading must be reversed, says the minerals industry.
26 May 20 - Bricks, concrete and other construction materials could one day be made from recycled PVC, waste plant-fibre or sand, thanks to a remarkable new kind of rubber polymer.
---