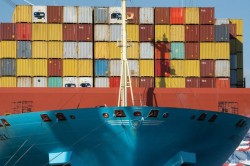 Tuesday - As more world leaders consider levying border taxes on climate-damaging goods, a new study looks at ways it can be done in countries—including the United States—that haven't established a domestic market for carbon emissions.

Tuesday - The world faces a growing paradox in the campaign to contain climate change. The harder it pushes the transition to a greener economy, the more expensive the campaign becomes, and the less likely it is to achieve the aim of limiting the worst effects of global warming.
Tuesday - What if Earth's atmosphere was infused with extra carbon dioxide, mused amateur scientist Eunice Foote in an 1856 research paper that concluded the gas was very good at absorbing heat.
Monday - A group of mostly smaller countries submitted new, more ambitious climate pledges to the United Nations this week, raising pressure on big emitters including China to do the same ahead of a major U.N. climate summit in November.

Monday - The global push to reduce atmospheric carbon is being compromised by confusing terminology and misleading claims, argues Dezeen founder and editor-in-chief Marcus Fairs.

Friday - Cutting greenhouse gas emissions quickly would save tens of millions of lives worldwide, a new study finds

Friday - Two of the main themes discussed during the G-7 meeting in June were collective security and climate change action. But an opportunity was missed by separating the issues, argues Limor Simhony.
---
Friday - If cellular agriculture is going to improve on the industrial system it is displacing, it needs to grow without passing the cost on to workers, consumers and the environment, write Jan Dutkiewicz and...
Thursday - Twenty months after more than 11,000 scientists declared a global climate emergency, establishing a set of benchmarks for the planet's health, an international coalition says its update on those...
28 Jul 21 - Economist Branko Milanovic argues that Norway illustrates the hypocrisy of rich countries that demand urgent action on climate change but are unwilling to accept any drop in living standards to...
27 Jul 21 - A new study by a director at one of the largest accounting firms in the world has found that a famous, decades-old warning from MIT about the risk of industrial civilisation collapsing appears to be...
23 Jul 21 - Climate change talks this year aimed at keeping global warming in check need to consign coal power to history, the British president of the upcoming United Nations' conference says..
22 Jul 21 - When it comes to climate change, male consumers may get a bit more of the blame than their female counterparts. Men spend their money on greenhouse gas-emitting goods and services, such as meat and...
21 Jul 21 - The rooting of feral pigs globally releases around 4.9 tonnes of carbon dioxide – the equivalent of 1.1 cars – a new study has found.
21 Jul 21 - Only a small chunk of governments' recovery spending in response to the Covid-19 pandemic has been allocated to clean energy measures, according to the International Energy Agency, with the...
21 Jul 21 - New research, using machine learning, helps project how the buildup of greenhouse gases will change clouds in ways that further heat the planet.
20 Jul 21 - People around the world need a "global green deal" that would tackle the climate crisis and restore the natural world as we recover from the Covid-19 pandemic, a group of politicians from the UK,...
20 Jul 21 - What's a ski slope without snow? That's the question on the lips of many climate scientists who fear that the future of winter sports is hanging in the balance. As global temperatures continue to...
19 Jul 21 - Governments must step up their regulation of businesses to tackle the climate crisis, the former Bank of England governor Mark Carney has urged, because the financial free markets will not reduce...
---