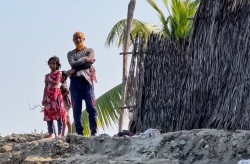 Tuesday - Wasim Ali, 45, lived in one of the 55,000 houses destroyed by the deadly Super Cyclone Amphan in May of 2020. The tropical storm whipped up a tidal surge that swept away his house and razed his small farm, measuring just 0.4 hectares (1 acre). Thousands of people were left destitute after this massive natural disaster. But for Wasim Ali, a resident of Protapnagar in Bangladesh's southwestern Satkhira district, the misery runs deeper.

Friday - The heaviest rain in Seoul in 115 years has spurred the South Korean capital to revive a $1.15 billion plan to improve drainage after floods exposed how even the affluent Gangnam district is vulnerable to climate change-driven extreme weather.
11 Aug 22 - The birds no longer sing, and the herbs no longer grow. The fish no longer swim in rivers that have turned a murky brown. The animals do not roam, and the cows are sometimes found dead.

5 Aug 22 - India is developing its carbon market by undergoing several climate action plans in just a matter of days. The world's 3rd-biggest emitter planned to set up a carbon credit market for the hard-to-abate sectors. These would initially include energy, steel, and cement industries.

4 Aug 22 - India's cabinet has approved an updated national climate plan, cementing targets pledged by Narendra Modi in November, including a 2070 net zero goal and 45% reduction in emissions intensity by 2030.

1 Aug 22 - The village of Phorste below Mt Everest has the highest number of high altitude guides who have died climbing in the Himalaya, but its Sherpas inhabitants are now being recruited to also become citizens scientists.

26 Jul 22 - Temperatures in the Middle East have risen far faster than the world's average in the past three decades. Precipitation has been decreasing, and experts predict droughts will come with greater frequency and severity.
---
26 Jul 22 - Public services in Pakistan's largest city, Karachi, have been suspended and businesses are being urged to close, as torrential rains cause deadly flash flooding and infrastructure damage, leaving at...
21 Jul 22 - State-controlled Convergence Energy Services Ltd. is planning a $10-billion tender for 50,000 electric buses that will drive India's plans to decarbonize public transport and help meet its goals for...
13 Jul 22 - Residents of Pulau Pari, an Indonesian island threatened by rising sea levels, are suing cement giant Holcim over its carbon dioxide emissions, a Swiss charity said on Tuesday.
7 Jul 22 - Hong Kong Exchanges and Clearing Limited, or HKEX, has launched the Hong Kong International Carbon Market Council, the exchange said in a statement late July 5, with developing an international...
6 Jul 22 - Suman Shakya wants me to touch the concrete wall of her bedroom, where her one-year-old son lies soaked with sweat. It burns my hand as if it were a hot pan. "Now imagine sitting in front of a hot...
27 Jun 22 - Thailand and Switzerland have signed the world's first country-to-country cooperation pact on offsetting carbon emissions.
16 Jun 22 - Heavily pregnant Sonari toils under the burning sun in fields dotted with bright yellow melons in Jacobabad, which last month became the hottest city on Earth.
8 Jun 22 - Singapore says it is facing a dengue "emergency" as it grapples with an outbreak of the seasonal disease that has come unusually early this year.
7 Jun 22 - Singapore's state-owned investor Temasek said on Monday it would invest an initial amount of S$5 billion (US$3.64 billion) to establish an investment platform GenZero, in a step towards driving its...
2 Jun 22 - Hyundai has come under fire for announcing a plan to build a natural gas-fired power station soon after pledging to use only renewable energy.
25 May 22 - The savage heatwave that has scorched India and Pakistan in recent months was made more likely by climate change and is a harbinger of the region's future, scientists have said in a new study.
19 May 22 - For up to 12 days every month, Tran Nhu Anh Kiet, a supermarket manager in Vietnam's Ninh Thuan province, is forced to turn off his solar panels during the most lucrative peak sunshine hours.
---