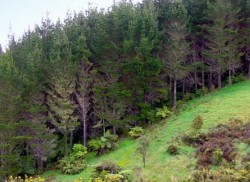 5 Dec 22 - Among the bills to pass into law in Parliament's recent Urgency session was the extension of the penalty transition regime for small forestry owners who remove trees.

13 May 22 - "I know that there are those who will be worried that these emissions budgets do not go far enough. I'm one of them," climate change minister James Shaw told Parliament yesterday in the opening speech of a special debate on the government's recently announced emission budgets.

9 Feb 22 - Tackling climate change will be at the core of the government's economic strategy, prime minister Jacinda Ardern declared in her first parliamentary speech of the year yesterday.

22 Oct 21 - AOTEAROA has become the first country in the world to pass a law requiring companies to disclose climate-related risks and opportunities.

26 Aug 21 - Climate change is the existential question of our age, so it's hardly surprising it generates more than a few parliamentary written questions…. but too often those questions reveal more about the petty political point scoring of New Zealand politics than the climate emergency.

24 Jun 21 - Climate Change Minister James Shaw told this morning's Environment Select Committee that using revenues from ETS auctions to pay a carbon dividend would be "socially progressive."

13 Apr 21 - A Bill requiring the financial sector to disclose the impact of climate change on their business and explain how they manage climate-related risks has its first reading in Parliament this week.
---
1 Sep 20 - Emissions limits will be imposed as part of resource consents for new buildings under proposals to cut emissions from the construction sector.
28 Feb 20 - The Government announced plans this week to overhaul the rules governing air quality and fine particulate matter.
17 Feb 20 - Fewer than five per cent of the written questions to Government ministers lodged this year are about climate change.
14 Feb 20 - Climate change was on the lips of the leaders of two of the five parties in Parliament when it resumed this week.
31 Jul 19 - Coromandel MP Scott Simpson is the National Party's new climate spokesperson.
31 May 19 - Rising carbon prices are likely to cost taxpayers $600 million this year.
22 May 19 - The Government's zero-carbon bill is off for public consultation with some big questions hanging over it.
22 May 19 - New Zealand's political elder statesman on climate change is warning of a potential gilets jeune-style backlash against the costs of climate action.
27 Feb 19 - Climate minister James Shaw says he doesn't intend explaining climate change to the West Coast Regional Council, which has expressed doubt about whether it is being caused by human activity.
18 Feb 19 - Opposition climate spokesman Todd Muller wants to know if the Government has provided the West Coast Regional Council with evidence that human-induced climate change is real.
11 May 18 - The Government's ban on new oil and gas exploration permits, threats to restrict the number of cows and charging applicants for the cost of inquiries for marine consents were all on Parliament's...
23 Apr 18 - Former Green MP Kennedy Graham will keep working with the ground-breaking cross-Parliamentary Globe climate group, its new chairperson says.
---