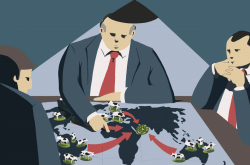 Today 11:00am - Polluting livestock companies and lobby groups will target pavilions in a coordinated campaign at the UN climate summit, documents show.
Today 11:00am - The world's most important climate meeting, which starts today, is being hosted in Dubai by the United Arab Emirates (UAE) - one of the world's top ten oil producers.
Wednesday - Climate scientists say fossil fuel use needs to fall rapidly – but oil-rich kingdom is working to drive up demand.

Wednesday - US President Biden is not expected to attend the opening of COP 28 this week but will send top US officials to the UN climate summit in Dubai, the White House confirmed.

Wednesday - As a year of record-breaking temperatures and climate change-fuelled disasters draws to a close, nations are once again preparing to gather for another round of UN climate talks.

Tuesday - The United Arab Emirates planned to use its role as the host of UN climate talks as an opportunity to strike oil and gas deals, the BBC has learned.

23 Nov 23 - COP28 president Sultan Al Jaber has urged governments to agree on global goals to triple renewables capacity and double the rate of energy efficiency improvements by 2030.
---
22 Nov 23 - Curbing methane is the fastest and cheapest way to keep average temperature rise under 1.5 degrees Celsius, a US state department official said.
22 Nov 23 - Lobbyists for big emitters in the Global North must not be allowed to push false solutions on COP28.
21 Nov 23 - COP28 is just a few weeks away, and if we are to have any hope of limiting global warming to 1.5 degrees and a positive outcome at the conference, we must see the oil and gas sector start to move the...
20 Nov 23 - For a taste of the United Arab Emirates, try the cappuccino at Abu Dhabi's Emirates Palace hotel. At around $25, it's a quality cup of coffee, but the gold flakes that come sprinkled on top are its...
17 Nov 23 - A year on from the breakthrough on climate-change funding, poor countries eye disappointment at the Dubai summit.
7 Nov 23 - By Jeremy Rose | The director of Yale University's Global Justice Program, Thomas Pogge, says for a relatively small investment of, say, US$100 million, New Zealand could make a significant impact on...
6 Nov 23 - Ahead of COP28, UN-backed scientists warn that to avoid six irreversible climatic and ecological changes, the root causes must be addressed.
3 Nov 23 - Charter launched to drive corporate climate action amid flurry of pre-COP activity, including confirmation that King Charles will attend climate talks.
2 Nov 23 - There are already signs that deep divisions could hamper progress at the UN's crucial COP28 climate summit.
1 Nov 23 - Set against the backdrop of heightened Middle Eastern tensions, the United Arab Emirates is hosting a series of key meetings this week to prepare for the upcoming UN Climate Summit in Dubai.
31 Oct 23 - Sultan Al Jaber, CEO of the UAE's national oil company, secured the COP28 presidency despite questions over his green credentials.
25 Oct 23 - Cop28 will discuss how global food production must become sustainable to stay within 1.5C.
---