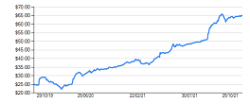 Wednesday - SPOT NZUs opened at $64.80 bid and $65.20 offered on CommTrade this morning, after last fixing at $65.10.

Wednesday - Leading global coal and gas supplier Australia has pledged to achieve net zero carbon emissions by 2050.

Wednesday - The world's richest countries admitted Monday that they broke a promise to deliver $100 billion a year to developing nations to help them cope with climate change.

Wednesday - India lost $87 billion last year due to natural disasters such as tropical cyclones, floods and droughts, according to the World Meteorological Organisation.

Wednesday - Wealthy countries are giving more money to defence contractors to beef up their border security than to fulfilling their climate aid commitments, a new study has found.

Wednesday - Concrete is responsible for more than four percent of all global CO2 emissions. In the race to find alternatives, some companies are using it to sequester CO2 instead.

Wednesday - A group of "holistic engineers" wants to return the arid Sinai peninsula to the lush, green landscape it once was.
---
Wednesday - Media release - New or updated climate action plans by governments can be effective in reducing greenhouse gas (GHG) emissions, but greater efforts are needed to keep global warming at bay, the UN...
Tuesday - The build-up of warming gases in the atmosphere rose to record levels in 2020 despite the pandemic, according to the World Meteorological Organization.
Tuesday - THERE have been 25conferences under the United Nations Framework Convention on Climate Change since the body first met in 1995. Over that period, some 894 billion metric tons of carbon dioxide, about...
Tuesday - The real disaster scenario begins with the triggering of invisible climate tripwires known as tipping points.
Tuesday - Sheltered by snow-spattered mountains, the Stordalen mire is a flat, marshy plateau, pockmarked with muddy puddles. A whiff of rotten eggs wafts through the fresh air.
Tuesday - India is seeking payment for the losses caused by climate disasters, its environment ministry said while laying out the country's positions on critical issues that will be negotiated at the United...
Tuesday - The global shipping industry is on course to see its greenhouse gas emissions rise by around a fifth by 2050 if action including introducing a carbon levy on fuel is not taken, new research backed by...
Friday - A huge leak of documents seen by BBC News shows how countries are trying to change a crucial scientific report on how to tackle climate change.
Friday - Around 70% of the world's top sustainability experts remain pessimistic about the future of the planet and humanity's ability to avert disasters due to climate change. In a new poll, the experts...
Friday - The European Parliament yesterday passed a resolution calling for a binding international agreement limiting methane emissions to be agreed on at next month's COP26 in Glasgow.
Friday - The head of environmental group Greenpeace on Thursday warned against efforts by countries and corporations at the forthcoming U.N. climate talks in Glasgow to "greenwash" their ongoing pollution of...
Friday - Soaring sales of electric vehicles (EVs) in China are driving the global trend away from combustion engines, the latest figures show.
---