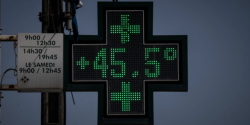 Today 10:30am - Last month marked one of the three hottest Julys ever recorded, with global temperatures measuring nearly half a degree Celsius above average, the United Nations' weather agency has said
Today 10:30am - The birds no longer sing, and the herbs no longer grow. The fish no longer swim in rivers that have turned a murky brown. The animals do not roam, and the cows are sometimes found dead.

Today 10:30am - Gravity storage start-up Energy Vault says it has begun site planning for what it now describes as a "multi-gigawatt hour" project for long and short term storage to support the green energy plans for Australian zinc refiner Sun Metals.

Today 10:30am - At the heart of Strasbourg, France stands a 466-foot tall, 588-year-old Rayonnant Gothic cathedral that draws tourists from over the world to gaze at its intricate carvings, ornate stained glass and massive astrological clock.

Today 10:30am - As large parts of Europe and North America swelter and then ignite, a future of endless climate destruction seems inevitable.

Today 10:30am - In 1912, the fact that excess carbon released into the atmosphere could warm up the earth was first made public knowledge. Here we are, one hundred ten years later, still wondering what to do about the problem.

Wednesday - More than half of the infectious diseases known to impact humans are being aggravated by climate change, scientists reported Monday in a new study in the journal Nature Climate Change.
---
Wednesday - Climate change may increase the mortality rate due to excessive heat six times by the end of the century, according to a modelling study published in The Lancet Planetary Health journal.
Wednesday - More clean energy, less dirty energy, new punishments for methane leaks and billions of dollars for communities most in need of climate-related help — those are the provisions that have...
Wednesday - On International Day of the World's Indigenous Peoples, World Food Programme agronomist Deborah Suc tells Simona Beltrami she's lost her shyness for sticking up for others – and the environment.
Wednesday - As much of Europe bakes in the latest heatwave, fears are growing about what's being dubbed 'heatflation' – climate change-driven staple crop losses that could see already inflated food prices reach...
Wednesday - Global guidelines on corporate climate reporting must fall in line with those in Europe and the US or investors could be hit by fragmented and inconsistent information, the European Central Bank and...
Tuesday - Scientists welcomed the passing of US President Joe Biden's "historic" climate bill while calling for other major emitters – namely the European Union – to follow suit and implement ambitious plans...
Tuesday - Tensions are mounting ahead of this year's U.N. climate summit as vulnerable countries ramp up demands for rich countries to pay compensation for losses inflicted on the world's poorest people by...
Tuesday - The Fagradalsfjall volcano in Iceland began erupting again on Wednesday after eight months of slumber – so far without any adverse impacts on people or air traffic.
Tuesday - Hydrogen has emerged as the great white (or green) hope of the clean energy transition due to its potential use in decarbonising hard-to-abate industries like shipping, steel production, and even...
Tuesday - Three Chinese organisations are leading the charge to create an international carbon market for green hydrogen.
Tuesday - Not many pilots climbing steadily up the ranks retire their wings in the name of environmental activism. But Todd Smith did just that at great expense. He spoke with DW about this life transition.
Monday - Concern has been raised by China's decision to stop working with the US on the climate catastrophe, and seasoned climate diplomats are calling for a quick restart of negotiations to help prevent...
---