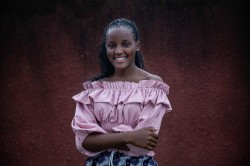 14 Dec 21 - She started a youth strike in Uganda – then just kept going. She discusses climate justice, reparations, imperialism and why the global north must take responsibility

10 Dec 21 - Jutting out from the second-largest continent, the Horn of Africa is one of the world's regions most vulnerable to climate change. The four countries on the peninsula—Djibouti, Eritrea, Ethiopia, and Somalia—are warming more quickly than the global average, with dangerous implications for unrest and conflict within and across their borders.

9 Dec 21 - Africa has been trying for years to get its special needs and circumstances officially recognised in UN climate talks, without success. The bloc left Glasgow last month disenchanted once again.

9 Dec 21 - The notion seemed straightforward: A massive swamp in the Congo Basin relatively unknown to most of the world, apart from a few human communities and a bewildering array of wildlife, could be the ideal spot for a carbon-rich soil known as peat.

23 Nov 21 - Nigeria has become the first major developing country to commit to set annual carbon budgets to plot its path to cutting emissions to net zero.

22 Nov 21 - African states should not be denied the opportunity to use nuclear energy, but it should be a solution of last resort, argues arms control expert Olamide Samuel.

18 Oct 21 - Mozambique has become the first country to receive payments from a World Bank trust fund for reducing emissions from deforestation and forest degradation—commonly known as REDD+.
---
8 Oct 21 - At-risk African countries must put pressure on those with the most resources to tackle the climate crisis – and they must do it now, argues Hannah Ryder the CEO of Development Reimagined.
7 Oct 21 - Climate change academics from some of the regions worst hit by warming are struggling to be published, according to a new analysis.
28 Sep 21 - South Africa and Zimbabwe have both announced ambitious Nationally Determined Contributions in the lead-up to COP-26.
27 Sep 21 - This week, as about 100 world leaders gather to attend the 76th session of the UN general assembly, a call for rich countries to urgently scale up assistance to help Africa address the twin...
31 Aug 21 - Zimbabwe's government says more coal mining will create jobs and give the country's power supply a much-needed boost, but critics warn the environmental cost is too high.
27 Aug 21 - Tropical forests may be local to the tropics, yet they all have global benefits. In addition to serving as refuges of the planet's stunning, if shrinking, biodiversity, these forests store large...
20 Aug 21 - Kenya is witnessing a spike in both infectious and non-communicable diseases as the climate crisis escalates in the country, experts said at a virtual forum in Nairobi.
22 Jul 21 - Madagascar's famine is the first in modern history to be solely caused by global warming, according to Time Magazine.
25 Jun 21 - Climate action plans have to include measures to redress women disproportionately affected by deforestation and plantation expansion, argues Human Rights researcher Juliana Nnoko-Mewanu.
18 Jun 21 - Growing demand for charcoal for cooking in Uganda is causing large scale environmental degradation and threatening public health and the environment.
28 May 21 - A new study suggests the earliest known evidence of organised warfare - the 13,000 years old remains of a massacre in Jebel Sahaba, Egypt - was the result of climate change.
13 May 21 - Kenya aims to set up an emissions trading system that will allow companies and other bodies to buy emissions allowances, the finance minister said on Tuesday, as the country strives to limit the...
---