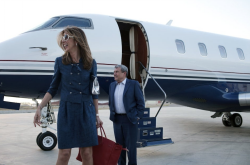 9 Nov 23 - Efforts to curb climate change are failing. Thatís partly due to the staggering contributions of the global elite.

17 Aug 22 - Along the tree-lined sidewalks of Tel Avivís Atidim Park, a business and commercial district in the north of the city, a curious new addition to the urban canopy arrived a few months ago.

5 May 22 - Cities can reduce the number of cars downtown by up to one-third through a series of carefully designed, layered policies, according to a new study.

24 Feb 21 - The Otago Regional Council is considering joining a Carbon Zero Alliance proposed by the Dunedin City Council late last year.

23 Feb 21 - Greater Wellington and Waikato regional councilsí climate change committees both meet this afternoon to consider, among other things, responses to the Climate Change Commissionís 2021 draft report.

23 Jun 20 - Keeping suburban parks green year-round can lower city temperatures by up to 12 deg during summer heatwaves, researchers say.

2 Jun 20 - Over cups of tea in his ramshackle London home I chatted with a novelist. Talk inevitably turned to its expanding population of wealthy residents.
---
11 May 20 - Curfews paralysed traffic as the covid-19 pandemic hit many cities, but now the cities have started to promote the bicycle revolution and ban cars.
6 May 20 - Unless steps are taken to check global warming, up to three billion people will find themselves in areas too warm for human comfort, a new study finds.
6 May 20 - Assuming the Rainbow Tree is actually built, the greenery-covered timber tower will rise to an impressive height of 115 m in Cebu, the Philippines.
1 May 20 - Aucklandís air pollution is higher than ever, suggesting any cut in greenhouse gas emissions as a result of the covid-19 pandemic shutdown will be short-lived.
23 Apr 20 - Developers are creating waterfront homes in Boston with innovative seawall defences but is this a model for other cities? Or a sign of climate gentrification?
14 Apr 20 - Many of the world's major cities are enjoying improved air quality since restrictions were introduced due to the covid-19 coronavirus.
8 Apr 20 - Hamilton is going after a $1.5 billion share of the Governmentís covid-19 recovery package with a suite of environmental projects.
14 Feb 20 - In the United States, once the home of car culture, cities are increasingly experimenting with free public transport. But the idea is not an American preserve: itís catching on fast across the globe.
19 Nov 19 - Shopper numbers in UK city centres are falling, leaving car parks empty Ė and councils are finding innovative ways to repurpose the space.
6 Nov 19 - Cities are testing new systems to reduce the pollution and congestion caused by of the final leg of a packageís journey from warehouse to doorstep.
31 Oct 19 - Fenced off by a wall of trees, about 20km from the high rises towering over Dubaiís city centre, lies a small solar-powered settlement aiming to become a green oasis in the desert.
15 Oct 19 - Rooftops covered with grass, vegetable gardens and lush foliage are now a common sight in many cities around the world.
---