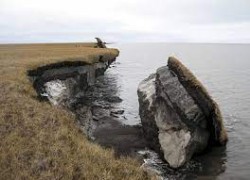 Today 10:30am - The actual impact of anthropogenic climate change has been undermined till now, claimed a new report published in the scientific journal Proceedings of the National Academy of Sciences.

Monday - Climate change is a real problem. Human caused outputs of greenhouse gases like carbon dioxide and methane are the main driver of an unprecedented rise in global average temperatures at a speed never before seen in the Earth's geologic record. The problem is so bad that any attempts to mitigate greenhouse gas emissions may be too little and too late. And so a team based at the Massachusetts Institute of Technology have proposed a radical new solution: bubbles…in space.

10 Aug 22 - More than half of the infectious diseases known to impact humans are being aggravated by climate change, scientists reported Monday in a new study in the journal Nature Climate Change.

10 Aug 22 - Climate change may increase the mortality rate due to excessive heat six times by the end of the century, according to a modelling study published in The Lancet Planetary Health journal.

9 Aug 22 - The Fagradalsfjall volcano in Iceland began erupting again on Wednesday after eight months of slumber – so far without any adverse impacts on people or air traffic.

5 Aug 22 - A new study has found an alarming loss in forest areas globally, including that global forest area per capita has dropped from 1.4 hectares in 1960 to just 0.5 hectares per person by 2019, a 60% decline.

5 Aug 22 - A new study warns that unprecedented events — disasters so extreme that communities haven't experienced anything like them before — are stymieing attempts to prepare for them. Risk management strategies based on past climate norms are no longer effective for a more extreme future.
---
4 Aug 22 - The tantalizing idea behind solar windows is that the vertical surfaces on the outside of just about any building could unobtrusively generate electricity.
4 Aug 22 - When Jeff Wells, vice president for boreal conservation at the Audubon Society, first encountered the call of the common loon on a pond near Mt. Vernon, Maine — about an hour and a half north of...
3 Aug 22 - As global greenhouse gas emissions continue to rise, some climate scientists say it's time to start paying more attention to the most extreme, worst-case outcomes, including the potential for...
1 Aug 22 - The deadly heat waves that have fueled blazes and caused transport disruptions in Europe, the U.S. and China this month have one thing in common: a peculiar shape in the jet stream dubbed "wavenumber...
29 Jul 22 - The amount of carbon that has been captured and stored globally via carbon capture and storage (CCS) since 1996 has been overestimated by up to 30%, according to new research from Imperial College...
29 Jul 22 - "Plant a tree" seems to be the go-to answer to climate change concerns these days. Booking a rental car online recently, I was asked to check a box to plant a tree to offset my car's anticipated...
28 Jul 22 - A new study has linked the volume and speed of carbon dioxide emissions from supervolcanoes to past environmental crises. According to the researchers, the findings are instrumental in understanding...
26 Jul 22 - Minimizing the risk of living on an unlivable planet requires significantly reducing greenhouse gas (GHG) emissions through various means, like shifting to renewable energy and electrifying sectors...
15 Jul 22 - Health-threatening heatwaves will become more intense due to climate change, putting millions more people at risk from dangerous summer temperatures, new research has revealed.
14 Jul 22 - Climate change has been linked with a widespread decline in the ability of many of the world's forests to bounce back after events such as drought and logging.
13 Jul 22 - Scientists, officials and activists have long called out the inequity in national histories on greenhouse gas emissions with rich nations benefiting and poor ones hurting from global warming, and now...
12 Jul 22 - With billions of people depending on wild flora and fauna for food, medicine, and energy, a million species are at risk of extinction due to the combined impacts of climate change, other forms of...
---