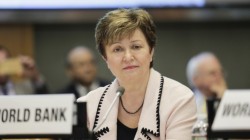 Today 10:30am - The head of the International Monetary Fund on Sunday underlined the case for carbon pricing at the COP28 climate summit.

Today 10:30am - Climate advocate and former US Vice President Al Gore slammed the UAE - host of the COP28 climate summit - saying its position as overseer of international negotiations on global warming this year was an abuse of public trust.

Today 10:30am - As global leaders and delegates gather in Dubai for the annual UN climate summit, a new analysis shows how the host cities of previous summits could be inundated — if not entirely submerged — by rising ocean waters.

Monday - A report by XDI reveals that 1 in 12 hospitals worldwide could face shutdowns due to extreme weather events from climate change.

Friday - In a recent review of more than 180 peer-reviewed articles — which I conducted with fellow researcher Richard Parncutt — we found that a scientific consensus has formed around the so-called 1,000-ton rule.

Friday - Nature could hold the key to protecting humanity as the planet heats, but scientists say it is still an underused option.

Thursday - Financial headwinds could be a passing storm or a long-term headache for the carbon-free energy source.
---
Thursday - At a climate summit, Bill Gates sparked controversy by dismissing tree planting as a climate crisis solution, calling it "complete nonsense."
29 Nov 23 - A new study outlines how researchers sought to reduce the psychological distance of climate change by showing a 3D virtual simulation of a storm surge to see if it would change their behaviours and...
28 Nov 23 - As the world transitions to renewable energy, some researchers are looking for a more Earth-friendly alternative to lithium ion batteries.
28 Nov 23 - Growing calls for the world to come to grips with the many ways that global warming affects human health have prompted the first day dedicated to the issue at crunch UN climate talks.
28 Nov 23 - The rapid rise of renewables and EVs has already put us on a safer path.
28 Nov 23 - The voluntary carbon market has the potential to address $4.1 trillion in nature financing gap by 2050 and support Indigenous peoples and local communities — when done right.
27 Nov 23 - The oil and gas industry faces a reckoning over its role in the clean energy transition, according to an International Energy Agency report.
24 Nov 23 - Delegates openly affiliated with oil, gas and coal firms have attended the UN climate talks to address the escalating global impacts of human-induced climate change at least 7,200 times over the last...
24 Nov 23 - Annual emissions may have just peaked but the world's temperature will keep rising until we reach net zero.
24 Nov 23 - More than 13,000 Nigerian villagers can bring legal claims against oil firm, rules high court.
24 Nov 23 - In a new paper, brain scientists lay out how their field could probe the reciprocal relationships between the changing climate and the brain.
23 Nov 23 - Chances are rapidly disappearing to limit Earth's temperature rise to the globally agreed mark, but researchers say there are some positive signs of progress.
---