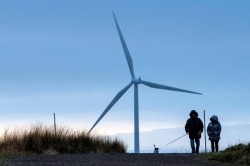 Today 11:00am - The net-zero transition will cost $275 trillion globally by 2050 as low-emission activities are ramped up and high-emissions activities decrease, according to a new report from consultancy McKinsey & Company.
Today 11:00am - A move to reduce meat consumption could reduce greenhouse gas emissions from agriculture by 62% across the world's 54 richest countries and free up enough land to store 100 billion tonnes of carbon, a new study concludes.

Today 11:00am - Norway's scheme to reduce emissions from deforestation in Indonesia made only a tiny dent in meeting the nation's climate target – but the forest nation deserved to have been paid more for it, a study has found.
Today 11:00am - The voluntary carbon markets (VCMs) are poised for explosive growth in 2022. At the conclusion of COP26 in Glasgow, 632 of the world's largest 2000 public companies by revenue had announced plans to achieve Net Zero greenhouse gas (GHG) emissions.

Today 11:00am - A survey of oil and gas facilities in Texas and New Mexico revealed 30 so-called "super-emitters," which are leaking as much heat-trapping pollution as roughly half a million cars, according to a new report from Carbon Mapper and the Environmental Defense Fund.
Today 11:00am - While much of President Joe Biden's climate change agenda has stalled in Congress, there is one nascent — and controversial — technology for reducing carbon emissions that has received billions in public funds in 2020 and 2021: Carbon capture.
Today 11:00am - Media Release - Otari-Wiltons Bush has received a grant through Te Tahua Taiao Nga Taonga Lotteries Environment and Heritage Fund for a project aiming to save some of New Zealand's most threatened orchids from extinction.
---
Tuesday - COP26 President Alok Sharma has warned that progress made during the summit is at risk of "withering on the vine".
Tuesday - GLOBAL shipping's carbon dioxide emissions posted year-on-year gains of 4.9% in 2021 and were higher than 2019, according to Simpson Spence & Young.
Tuesday - China's national carbon market has wrapped up its first compliance period with a steady rise in market activity, said the Ministry of Ecology and Environment on Monday.
Tuesday - "There are 9-million bicycles in Beijing, that's a fact." The opening lyrics to that 2005 hit song was a conservative estimate back then, and today millions of those bicycles have been replaced by...
Tuesday - The planet's warming climate could intensify 'rivers in the sky' over East Asia, scientists have warned.
Tuesday - One of the most instantly recognisable emblems of the past pandemic year is the discarded surgical mask: ground into mud at the edge of a walking path, caught in the branches of a tree, tangled...
Monday - SPOT NZUs opened at $74.50 bid and $75.50 offered on CommTrade this morning, after last fixing at $74.95.
Monday - AFTER years of hovering around the same price, the value of Australia's carbon credits has skyrocketed – tripling in the past year.
Monday - A first-of-its-kind "green" Shell facility in Alberta is emitting more greenhouse gases than it's capturing, throwing into question whether taxpayers should be funding it, a new report has found
Monday - Together with French manufacturer Alstom, German railway company Deutsche Bahn is going to start trial runs with the country's first battery-powered passenger train.
Monday - A Japanese-Australian venture producing hydrogen from brown coal is set to start loading its maiden cargo on the world's first liquid hydrogen carrier on Friday, in a test delayed by nearly a year...
Monday - On its tar sands in northern Alberta, Suncor Energy scrapes vast open-pit mines and drills down deep into the ground to extract the viscous bitumen that has turned it into one of the largest energy...
---