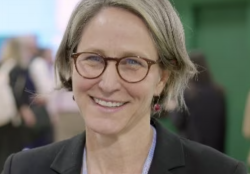 Friday - Australia's climate change ambassador says the federal government cannot yet back the Pacific's call to rapidly phase out fossil fuels because it's grappling with "complex" and "difficult" issues thrown up by decarbonisation.

27 Nov 23 - A climate change protest off Australia's east coast disrupted operations at the country's biggest coal export port on Saturday.

15 Nov 23 - After seven years of operation US giant Chevron is burying just a third of the carbon pollution it committed to burying at its Gorgon gas export project.

8 Nov 23 - With less than four weeks until the next UN climate conference COP-28, Germany's special envoy for climate diplomacy, Jennifer Morgan, is in Australia for a series of meetings with key climate players.

1 Nov 23 - As Australia braces for a summer of projected extreme heatwaves and bushfires, the fossil gas industry is gearing up for a truly enormous new fracking project in the Northern Territory's Beetaloo Basin.

10 Oct 23 - Sitting in a bar in Manhattan recently, there for Climate Week NYC and the United Nations Climate Ambition Summit, I watched as Australians from both government and the private sector worked the room.

4 Oct 23 - The previous hottest start to October in Sydney was 33.1C but Sunday's mercury peaked at 35.6C.
---
29 Sep 23 - They look like any other cattle strolling through a grassy paddock in Queensland, but beneath their hooves the soil is doing more than producing feed. It is helping to fight climate change.
19 Sep 23 - The problems at Qantas, and the explosion in executive remuneration this century, reflect a much more general problem in the Australian economy.
13 Sep 23 - Smoke sweeps through the treetops as a fire consumes the dense undergrowth of the Australian winter bush.
8 Sep 23 - The Australian government has engaged an eminent academic to study the need for a carbon tariff to protect local manufacturers from unfair competition from imports which are not subject to...
8 Sep 23 - An Australian survey of young people shows more than half fear for the future due to climate change.
5 Sep 23 - Experts are getting increasingly nervous about a problem that's been lying dormant for years: Sydney's water supply is running out.
1 Sep 23 - The federal government has agreed to settle a world-first court case accusing it of misleading investors by failing to disclose the risk climate change poses to its bonds.
22 Aug 23 - Deep in the Australian outback, there are billions of dollars being made from carbon farming.
18 Aug 23 - Imported steel and cement could face a tariff to ensure Australian producers seeking to reduce carbon emissions are not disadvantaged.
16 Aug 23 - New laws will allow a notorious gas field project to dump carbon dioxide in Timor-Leste waters – using a process that has not worked anywhere in the world – so it can meet its net-zero requirements.
11 Aug 23 - An investigative report published by a global nonprofit has made worrying revelations about methane leaks from as many as 35 fossil fuel sites located in Australia.
10 Aug 23 - Australia has put the climate and job creation in the Pacific at the centre of its new foreign aid policy, part of an effort to woo back island nations that have fallen under China's deep-pocketed...
---