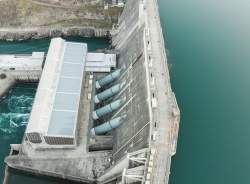 20 Oct 23 - Transpower company Energy Market Services (EMS) has been accredited to issue International Renewable Energy Certificates (I-REC) for electricity produced in New Zealand.

17 Oct 23 - Analysts say Australia's carbon price is set to double, with reforms underway affecting industrial greenhouse gas emitters who are responsible for about 28% of the country's emissions.
10 Dec 21 - Carbon bulls are on the ride.

10 Nov 21 - The London Stock Exchange is aiming to make funding for carbon reduction projects more transparent, introducing a new market that it says will help the industry to scale.

18 Aug 20 - International conservation is known for its pursuit of global, 'win-win' solutions that seek to simultaneously address multiple environmental and social issues. But few proposed solutions have offered as much hope, and been so energetically embraced, as REDD+.

9 Sep 16 - In 2012, when California began its cap-and-trade programme, it was hailed as a model for the rest of the world.

23 Aug 16 - There are at least three good reasons why China is likely to succeed in starting the world's biggest carbon-trading market when its efforts to limit pollution kick in next year.
---
11 Jul 16 - Europe is supporting the development of Korea's Emissions Trading Scheme in a $5.3 million three-year partnership.
17 Apr 14 - Westpac international carbon update:
15 Apr 11 - Moribund would be one word to describe the New Zealand carbon market this week, OMFinancial reports.
15 Oct 10 - By Jeff Siegel.- It was all over the news last week ...
14 May 10 - By Tim Watson.- There are more reasons than ever to be bullish on clean energy.
23 Oct 09 - By Sam Hopkins, Green Chip Review.- Siemens is moving from country to country and from strength to strength in the renewables sector
7 Aug 09 - By Sam Hopkins - The S&P 500 just broke the 1,000 mark for the first time since November. With a price-to-earnings ratio of 65, the broadest U.S. benchmark is now about 225% over last year's premium...
12 Nov 08 - NZUs – December 2010 –150,000 tonnes – Bid €13.00 and offered €14.00 per tonne.
11 Jun 08 - A record daily average of 13.5millioin EUAs traded through brokers and exchanges last week.
11 Jun 08 - IDEAcarbon has issued an analysis explaining the difference between EUA and CER prices.
11 Jun 08 - Eight of the world's leading carbon reduction and offset providers have formed the International Carbon Reduction and Offset Alliance (ICROA), The Climate Group announced.
10 Jun 08 - EUA-Dec08 hit a 2-year high of EUR 27.25 in the week to June 7.
---