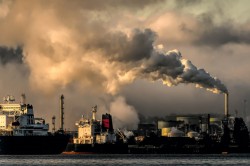 Friday - The carbon price is up to just under $75 ahead of the Emissions Trade Scheme auction on Wednesday next week.

Friday - By Ann Smith | OPINION: Toitū's decision last week to transition away from accepting New Zealand carbon credits brought the global voluntary carbon market, and debates about its integrity, into sharp focus.

16 Nov 23 - The carbon price has pushed through the $70 mark over the last past two months, from a low of $64 in late September to a high last week of $71.25.

8 Nov 23 - An expert is picking a bump in the carbon price if the December auction doesn't clear, predicting it will to go up to between $80 and $100 next year - with an expectation it will be closer to $100.

13 Oct 23 - NZX has updated the Emissions Trading Scheme auction calendars, with new settings in line with Climate Change Commission recommendations.
5 Oct 23 - The Financial Markets Authority has published its final guidance for Climate Reporting Entities on meeting their record keeping obligations.

19 Sep 23 - The price of NZUs has dipped again, down $4 from $73 last week.
---
13 Sep 23 - The NZU price is up $2 since early last week, with a price bump both before and after last week's auction.
6 Sep 23 - Today's ETS auction has been declined because the clearing price did not meet the minimum price settings, with no winning bids as a result - and an increasing likelihood that the December auction...
4 Sep 23 - The carbon price pushed through the $70 mark at the end of last week, last fixing at $71 on Commtrade on Friday. It has climbed $6 in the past two weeks to its highest point since February - more...
1 Sep 23 - Emissions Trading Scheme participants are calling for better accuracy and transparency in NZU movement reporting, after two reporting glitches have led to serious questions.
22 Aug 23 - The NZU price hit a 5-month high late last week, trading as high as $66.50 on Friday - up 10% for the week.
9 Aug 23 - An unnamed buyer is in the market for a "significant volume" of forestry NZUs through a tender process.
2 Aug 23 - It's been a big week for NZUs on the secondary market, with the price rising almost $18 to $65 on Wednesday last week, hovering around $60 for several days, but then dipping below the $60 mark.
26 Jul 23 - The government has adopted the Climate Change Commission's advice on ETS auction settings from December, with a significantly higher floor price, lower auction volumes, and two-tiers of much higher...
26 Jul 23 - Pundits are picking the government's decision to adopt most of the Climate Change Commission's ETS recommendations, rejected by Cabinet last year, will result in a sustained increase in the price of...
25 Jul 23 - The Ministry for the Environment has signalled it will make an announcement about the Emissions Trading Scheme tonight, after the market closes.
19 Jul 23 - The price of NZUs on the secondary market has rebounded since last week's unexpected revelation that the government would be forced to change Emissions Trading Scheme settings.
19 Jul 23 - The "stockpile" of NZUs is down after the last surrender deadline, with emitters using primarily forestry or industrial allocation to meet their obligations under the ETS.
---