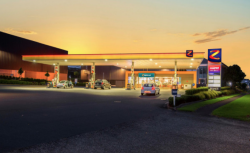 Today 11:00am - Consumer NZ is taking Z Energy to the High Court, claiming the company has misled New Zealanders with its claims over emissions reductions and mitigation.

Today 11:00am - Climate change ministers old and new will represent New Zealand at the UN's largest ever climate conference, which starts today.

Wednesday - By Jeremy Rose | New Zealand could go from being a buyer of offshore carbon credits to an exporter of offsets, according to the promoters of an ambitious plan to reforest and restore 2.1 million hectares of indigenous forests over the next 10 years.

Wednesday - By Paul Callister and Robert McLachlan | Air New Zealand has a problem. The national airline needs to be profitable and, traditionally, this has involved increasing passenger numbers.

Tuesday - By Liz Kivi | The new government has a major task ahead to deliver on the country's international obligations for emissions reductions, with implications for international trade if targets aren't met.

Tuesday - The Green Party has launched a petition to stop the incoming government repealing the ban on offshore oil and gas exploration.

Monday - By Liz Kivi | The new National-led coalition government has dumped the current review of the Emissions Trading Scheme, and appointed climate and environment ministers outside cabinet.
---
Monday - The former energy and resources portfolio has been split into two by the new government.
24 Nov 23 - By Jeremy Rose | The Parliamentary Commissioner for the Environment and some of the country's major environmental groups have questioned the government's one-eyed focus on biodiversity credits.
24 Nov 23 - It's unusual for an aircraft manufacturer to be able to genuinely claim its product is making a net positive contribution to climate change but that's the claim of one Hamilton-based company - and it...
24 Nov 23 - In our weekly round-up of the best climate coverage in local media: Big carbon farming decisions lie ahead; the good (and bad) news on climate change; and growing concerns around the Māori...
23 Nov 23 - Toitū Envirocare, the government's carbon certification service, announced today that it will transition away from accepting New Zealand carbon credits in its carbon certification programmes.
23 Nov 23 - Manawa Energy has declared its move to a generation-only model a success.
22 Nov 23 - The Climate Change Commission is back in court defending its advice, with a case brought by Lawyers for Climate Action (LCANZI) starting in the Court of Appeal yesterday.
22 Nov 23 - Ozone levels above Antarctica may not be recovering after all, and climate change might be to blame, according to NZ scientists.
21 Nov 23 - New Zealand is one of 14 countries in the US-led Indo-Pacific Economic Framework (IPEF) that agreed to two more "pillars" of the initiative last week, covering cooperation on clean energy and...
20 Nov 23 - By Jeremy Rose | Long-time micro-car advocate Toa Greening is calling on the incoming government to change road regulations to allow microcars - increasingly popular in Asia and Europe - on New...
20 Nov 23 - Contact Energy's senior staff seem full of hope that the coming month will bring to an end a few uncertainties in the electricity sector.
17 Nov 23 - New Zealand's Exclusive Economic Zone contains about 2,240 million tonnes of organic carbon or 1% of the estimated global carbon stocks in marine sediments, a report commissioned by the Parliamentary...
---