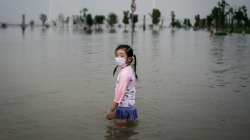 Wednesday - More than half of the infectious diseases known to impact humans are being aggravated by climate change, scientists reported Monday in a new study in the journal Nature Climate Change.

Wednesday - Climate change may increase the mortality rate due to excessive heat six times by the end of the century, according to a modelling study published in The Lancet Planetary Health journal.

Wednesday - More clean energy, less dirty energy, new punishments for methane leaks and billions of dollars for communities most in need of climate-related help — those are the provisions that have environmentalists celebrating what they see as a monumental step for U.S. climate action.

Wednesday - On International Day of the World's Indigenous Peoples, World Food Programme agronomist Deborah Suc tells Simona Beltrami she's lost her shyness for sticking up for others – and the environment.

Wednesday - As much of Europe bakes in the latest heatwave, fears are growing about what's being dubbed 'heatflation' – climate change-driven staple crop losses that could see already inflated food prices reach new highs this autumn, deepening the cost-of-living crisis.

Wednesday - Global guidelines on corporate climate reporting must fall in line with those in Europe and the US or investors could be hit by fragmented and inconsistent information, the European Central Bank and IMF have warned.

Tuesday - Scientists welcomed the passing of US President Joe Biden's "historic" climate bill while calling for other major emitters – namely the European Union – to follow suit and implement ambitious plans to slash emissions.
---
Tuesday - Tensions are mounting ahead of this year's U.N. climate summit as vulnerable countries ramp up demands for rich countries to pay compensation for losses inflicted on the world's poorest people by...
Tuesday - The Fagradalsfjall volcano in Iceland began erupting again on Wednesday after eight months of slumber – so far without any adverse impacts on people or air traffic.
Tuesday - Hydrogen has emerged as the great white (or green) hope of the clean energy transition due to its potential use in decarbonising hard-to-abate industries like shipping, steel production, and even...
Tuesday - Three Chinese organisations are leading the charge to create an international carbon market for green hydrogen.
Tuesday - Not many pilots climbing steadily up the ranks retire their wings in the name of environmental activism. But Todd Smith did just that at great expense. He spoke with DW about this life transition.
Monday - Concern has been raised by China's decision to stop working with the US on the climate catastrophe, and seasoned climate diplomats are calling for a quick restart of negotiations to help prevent...
Monday - On 25 April 2022 Australia's public radio station replayed an interview with Jonathan Franzen in which the American author suggested we should resign ourselves to the climate crisis. "We literally...
Monday - Boats moor next to living rooms on Fiji's Serua Island, where high tide breaches the seawall and floods the village.
Monday - Legislators on Capitol Hill will soon vote on the biggest climate crisis bill in U.S. history. It's sparked a lively debate in its northern neighour where Canadians are questioning whether the time...
Monday - Australian Institute of Marine Science says results in north and central regions are a sign the reef could still recover, but loss elsewhere highlights risks
Monday - The UK's largest steelworks is facing "crunch time" over reducing carbon emissions, a professor has warned.
Friday - A new study has found an alarming loss in forest areas globally, including that global forest area per capita has dropped from 1.4 hectares in 1960 to just 0.5 hectares per person by 2019, a 60%...
---