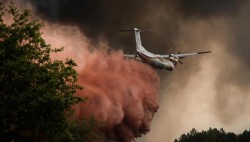 Today 10:30am - The multiple forest fires that have been raging in France since the beginning of summer have released record amounts of carbon into the atmosphere, according to satellite data, and fires in Spain in mid-July also helped break records for carbon emissions. Fuelled by global warming, the blazes are reducing the number of trees available to absorb carbon, further threatening ecosystems.

Tuesday - The EU-New Zealand free trade agreement (FTA) – announced in early July – is the first of its kind to include legally enforceable commitments on climate measures, as well as gender equality and environment and labour standards

Tuesday - Norway will have to phase out some of its old oil and gas fields prematurely to achieve its 2030 climate goals, unless it can use carbon-free power on more offshore platforms to cut their emissions, the country's Climate Minister Espen Barth Eide said.

Monday - To travel through Stuttgart is to visit past sins and glimpse a promising future. This German manufacturing hub is where the gas-powered automobile was invented in 1886. Porsche and Mercedes still manufacture their luxury cars here, and these companies' local museums celebrate a time when the chrome curves of sports cars symbolized speed instead of a climate crisis.

Monday - Climate activists in the south of France have damaged lawns and filled golf course holes with cement, protesting against golf courses' exemption from water bans as the country faces its most severe drought in history.

Friday - The head of the European Space Agency (ESA) has warned economic damage from heatwaves and drought could dwarf Europe's energy crisis as he called for urgent action to tackle climate change.

Friday - More than 200 major Alpine glaciers have disappeared in Italy since record-keeping began in 1895, the country's environmental lobby group Legambiente said in a report.
---
11 Aug 22 - At the heart of Strasbourg, France stands a 466-foot tall, 588-year-old Rayonnant Gothic cathedral that draws tourists from over the world to gaze at its intricate carvings, ornate stained glass and...
10 Aug 22 - As much of Europe bakes in the latest heatwave, fears are growing about what's being dubbed 'heatflation' – climate change-driven staple crop losses that could see already inflated food prices reach...
1 Aug 22 - Dimitris Mitsaris opens his garage door and the smell of fermenting grapes emerges, as the first morning light bounces off dozens of steel tanks. Mitsaris and his family live here, in Agios...
29 Jul 22 - The German government plans to spend €177.5 billion of the federal budget on climate action and the transformation of the country's economy between 2023 and 2026, with a focus on increasing the...
27 Jul 22 - Deforestation, billions of euros wasted, and soaring food and fuel prices; the charge sheet against biofuels is damning. Introduced to reduce our reliance on fossil fuels, the burning of food crops...
26 Jul 22 - When it comes to carbon emissions, cars are king. In fact, the EPA found that transportation is the biggest driver of greenhouse gas emissions due to burning fossil fuels. And while electric cars...
25 Jul 22 - It is often argued by politicians and agriculture industry members that Irish beef and dairy producers are more climate-friendly compared to other countries.
25 Jul 22 - Last Monday, Dutch reforestation company Land Life started what has become a 35,000 acre forest fire in Spain.
22 Jul 22 - The water off the coast of northwest Greenland is a glass-like calm, but the puddles accumulating on the region's icebergs are a sign that a transformation is underway higher on the ice sheet.
21 Jul 22 - Europe is sweltering in record-breaking temperatures this week, and across the continent, people are largely trying to cope without air conditioning.
20 Jul 22 - German Foreign Minister Annalena Baerbock has rejected the notion of cutting back on climate change targets despite the energy and food security crisis, speaking at the end of the Petersberg Climate...
20 Jul 22 - Wildfires in Spain and Morocco have produced more carbon emissions in June and July this year than in the same period of any year since 2003, the European Union's Copernicus Atmosphere Monitoring...
---