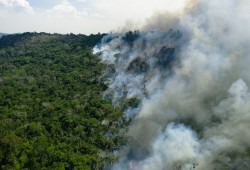 Monday - A panel of 12 legal experts from around the world have released a proposed definition for a new international crime called "ecocide" covering "severe" and "widespread or long-term environmental damage" that would be prosecuted before the International Criminal Court in the Hague.

Monday - Vanuatu is asking the International Court of Justice to issue an opinion on the rights of present and future generations to be protected from the adverse effects of climate change.

Monday - CLIMATE activists allied with Swedish teen campaigner Greta Thunberg were on Friday demonstrating in some 70 countries to demand global action ahead of a key summit in the United Kingdom

Monday - This week, as about 100 world leaders gather to attend the 76th session of the UN general assembly, a call for rich countries to urgently scale up assistance to help Africa address the twin challenges of climate catastrophe and the effects of Covid-19 pandemic is required.

Monday - Global fossil fuel subsidies amounted to $6 trillion in 2020, with more than 70 per cent reflecting "undercharging" for environmental costs, which makes it imperative to set the right price for fuels to reduce carbon emissions, the International Monetary Fund has said.

Friday - Treasurer Josh Frydenberg will prepare the way for Scott Morrison to take a target of net zero emissions by 2050 to Glasgow, when he warns on Friday capital inflow will be at risk if Australia is seen as a climate laggard.

Friday - An increase in natural gas prices leads to price hikes across the US economy for home heating, fertilizer, chemicals—and wholesale electricity, because of the power sector's heavy reliance on gas-fired power plants.
---
Friday - Researchers are developing artificial intelligence that could assess climate change tipping points. The deep learning algorithm could act as an early warning system against runaway climate change.
Friday - Indigenous nations are at the frontlines of climate change, but they're also leaders in how to adapt to changing weather conditions and transition to renewable energy.
Friday - The rapid, radical decarbonisation needed to save the planet will cost a lot. Taxing multinationals and the wealthy properly can help pay for it, argues Eva Joly, a member of the Independent...
Friday - Media Release - Transport Minister Michael Wood needs to urgently clarify who will be exposed to his Car Tax, National's Transport spokesperson David Bennett says.
Thursday - SPOT NZUs opened at $63.75 bid and $65.00 offered on CommTrade this morning, after last fixing at $64.50
Thursday - The World Health Organisation (WHO) tightened its air quality guidelines on Wednesday for the first time since 2005, hoping to spur countries toward clean energy and prevent deaths and illness caused...
Thursday - China began enforcing the Kigali Amendment to the Montreal Protocol last week—and the climate implications are huge
Thursday - Climate change, which is responsible for magnifying this summer's deadly heat waves, hurricanes, wildfires and floods, is typically no laughing matter. But for one night, seven popular late-night...
Thursday - When the scientists aboard the International Space Station direct their thermal camera at Los Angeles, standing out from the sweltering red and orange blob is a crescent of cool, blueish white deep...
Thursday - Chinese President Xi Jinping has said that China would no longer fund the construction of new coal-fired power projects overseas, surprising the world on climate for the second straight year at the...
Thursday - Media Release - A hidden report uncovered by Greenpeace shows that the Climate Change Commission ignored its own internal advice that could cut agricultural climate emissions by a third or more.
Wednesday - United States President Joe Biden is expected to announce "good news" on addressing a shortfall in a $100bn global climate fund, a UN official said on Monday following a closed-door meeting on the...
---