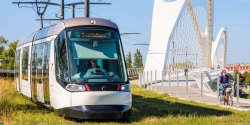 Thursday - At the heart of Strasbourg, France stands a 466-foot tall, 588-year-old Rayonnant Gothic cathedral that draws tourists from over the world to gaze at its intricate carvings, ornate stained glass and massive astrological clock.

Wednesday - As much of Europe bakes in the latest heatwave, fears are growing about what's being dubbed 'heatflation' – climate change-driven staple crop losses that could see already inflated food prices reach new highs this autumn, deepening the cost-of-living crisis.

1 Aug 22 - Dimitris Mitsaris opens his garage door and the smell of fermenting grapes emerges, as the first morning light bounces off dozens of steel tanks. Mitsaris and his family live here, in Agios Panteleimonas, a mountainous village of just 800 residents in northern Greece, and have made their home into a small winery. "I don't even have electricity here yet," Mitsaris says with a laugh.

29 Jul 22 - The German government plans to spend €177.5 billion of the federal budget on climate action and the transformation of the country's economy between 2023 and 2026, with a focus on increasing the energy efficiency of buildings.
27 Jul 22 - Deforestation, billions of euros wasted, and soaring food and fuel prices; the charge sheet against biofuels is damning. Introduced to reduce our reliance on fossil fuels, the burning of food crops for fuel has been an unmitigated disaster.

26 Jul 22 - When it comes to carbon emissions, cars are king. In fact, the EPA found that transportation is the biggest driver of greenhouse gas emissions due to burning fossil fuels. And while electric cars offer a promising alternative, it still doesn't address the carbon that's already in the air.

25 Jul 22 - It is often argued by politicians and agriculture industry members that Irish beef and dairy producers are more climate-friendly compared to other countries.
---
25 Jul 22 - Last Monday, Dutch reforestation company Land Life started what has become a 35,000 acre forest fire in Spain.
22 Jul 22 - The water off the coast of northwest Greenland is a glass-like calm, but the puddles accumulating on the region's icebergs are a sign that a transformation is underway higher on the ice sheet.
21 Jul 22 - Europe is sweltering in record-breaking temperatures this week, and across the continent, people are largely trying to cope without air conditioning.
20 Jul 22 - German Foreign Minister Annalena Baerbock has rejected the notion of cutting back on climate change targets despite the energy and food security crisis, speaking at the end of the Petersberg Climate...
20 Jul 22 - Wildfires in Spain and Morocco have produced more carbon emissions in June and July this year than in the same period of any year since 2003, the European Union's Copernicus Atmosphere Monitoring...
20 Jul 22 - The final Irish Cabinet meeting before the summer break is expected to agree sectoral targets for cutting greenhouse gas emissions.
19 Jul 22 - A new study shows weather catastrophes triggered by climate change have cost Germany at least €145 billion over the last two decades. Leaders at the Petersberg Climate Dialogue are looking at ways to...
18 Jul 22 - Finnish companies Polar Night Energy and Vatajankoski have built the world's first operational "sand battery", which provides a low-cost and low-emissions way to store renewable energy.
15 Jul 22 - Europe should create a day of memorial for the victims of climate change, the EU's Green Deal chief Frans Timmermans said Thursday, marking the anniversary of floods that killed more than 220 people...
14 Jul 22 - TO most climate scientists and environmentalists, conversations about trying to address climate change with natural gas are a nonstarter.
13 Jul 22 - The Tour de France stage to Megčve came to a stop with 35km to go as the route was blocked by a group of protestors demanding action against climate change.
11 Jul 22 - Denmark will establish a state-controlled climate label in order to help residents purchase more environmentally-friendly foods.
---