NZ ETS background
For TZ1 background on the NZ ETS, TZ1 exchange operations and glossary please click here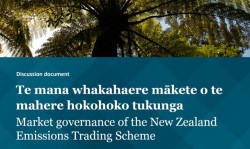 23 Nov 22 - The Ministry for the Environment is consulting on whether NZUs should be treated as a financial instrument with agents, advisors and consultants subject to the Financial Markets Conduct regime.

20 Jun 22 - With the Cost Containment Reserve fully depleted at last week's second ETS auction of the year market commentators are picking the Climate Change Commission will advise the government to up the trigger price.

11 May 22 - The top five successful bidders at the last NZ ETS auction snaffled up 78% of the NZUs on offer.

5 May 22 - The number of transactions on the Emissions Trading Register jumped by 72% in the first four months of this year compared to the same period in 2021.

15 Mar 22 - Last month, tomorrow's ETS auction seemed a foregone conclusion. The price of NZUs had hit an all time high of $86.25 and with a price containment reserve of just $70, the reserve's 7 million additional NZUs seemed certain to be snapped up.
8 Feb 22 - ANZ agricultural economist Susan Kilsby has warned that the price of carbon "could move sharply in either direction" in an in-depth backgrounder on New Zealand's carbon market.
26 Jan 22 - The number of NZUs on offer could be reduced in the future to take account of the extra units entering the system through the cost containment reserve mechanism, climate change minister James Shaw says.
---
8 Oct 21 - Two of the 77 participants in September's ETS auction snaffled up a combined 56.8% of the 11.75 million NZUs on offer – which included the 7 million extra units released when the $50 cost containment...
15 Jun 21 - NZUs fixed at $40.50 on both CommTrade and Carbon Match yesterday, an all time high but still only about half of what's being paid for carbon credits Europe and the UK.
7 Nov 17 - WANTING TO explain how an emissions tradiing regime can cut greenhouse gas emissions, or having trouble understanding it yourself?
14 Aug 09 - By Alex Koyfman. - What few understand today is that climate change is actually one of the most significant drivers of the economy that we're likely to see in our lifetimes.