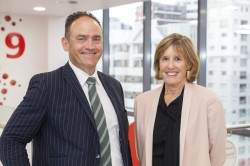 5 Nov 20 - Former Reserve Bank director Bridget Coates and Chapman Tripp partner Ross Pennington are the new co-chairs of The Aotearoa Circle's Sustainable Finance Forum.

31 Aug 20 - The head of the Ministry for the Environment's climate directorate has gone to work for DairyNZ.

27 Aug 20 - The Sustainable Business Council has five new advisory-board members.

27 Aug 20 - Pâmu has appointed Lisa Martin to the executive leadership team in the newly created role of general manager of sustainability and farming systems.

29 Aug 19 - A former chief executive of the Bay of Plenty regional council has been appointed to the board of the Environmental Protection Agency, which oversees the management of the Emissions Trading Register.

6 Jul 17 - The Ministry for the Environment is to get a new science adviser.

28 Oct 16 - The new chief executive of the Government's energy efficiency agency has a background in commercial law, policy making and disaster recovery.
---
6 Sep 16 - Green Party MP Kevin Hague is quitting Parliament to become chief executive of the environmental organisation Forest and Bird.
11 Aug 16 - The Environmental Protection Authority has appointed a chief scientist to help people to understand the science behind its decisions.
9 Aug 16 - The Green Building Council has a new chief executive.
2 Jun 16 - Internationally successful entrepreneurs Victoria Ransom and Katherine Corich are new trustees for the business-led green growth organisation Pure Advantage.
18 Apr 16 - New Zealand's next Climate Change Ambassador will be career diplomat Mark Sinclair.
22 Mar 16 - Environmental Choice, the government-owned-and-backed environmental labelling organisation, has a new general manager.
10 Aug 15 - The Investor Group on Climate Climate Change Australia/New Zealand has a new chief executive.
1 Dec 14 - Hawkins Construction chief executive Gary Walker and INZIDE Commercial co-owner Steve Aschebrock have joined the board of the Green Building Council.
11 Aug 14 - Sustainable business lobby group Pure Advantage has a new man at the helm.
1 Aug 14 - Ngâti Kahungunu Iwi Incorporated has a new director of environment and natural resources.
18 Oct 13 - The Government has appointed an engineer with a background in electricity generation and the oil and gas industry to the board of the Environmental Protection Authority.
6 Sep 13 - The Waste Advisory Board has three new members.
---