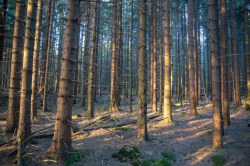 Tuesday - Restoring degraded environments, such as by planting trees, is often touted as a solution to the climate crisis. But our new research shows this, while important, is no substitute for preventing fossil fuel emissions to limit global warming.

Monday - A study published last month in the peer-reviewed journal Nature Climate Change sought to understand the potential impact of artificial intelligence on climate change.

Monday - Science has a resistance to ill-founded assertions embedded deep in its bones. Carl Sagan called this "baloney detection." But in the face of climate change, arguably our largest science-related crisis, these baloney detection capabilities haven't kept our leaders honest.

Friday - Despite being "yucky" according to some picky eaters, broccoli is well-suited to grow alongside solar panels, according to a new study.

Thursday - Fresh research suggests transport accounts for one-fifth of total food-system emissions, with fresh fruit and vegetables amongst the most carbon-intensive.

29 Jun 22 - US startup Symbrosia* has raised $7 million in new funding as it makes progress on its seaweed feed additive that reduces methane emissions from livestock.

28 Jun 22 - Climate change affects everyone, but studies have shown infants and children to be most vulnerable.
---
23 Jun 22 - The majority of people surveyed in 33 countries around the world say their lifestyle dreams could be fulfilled with a finite—and often relatively modest—amount of money. The findings call into...
22 Jun 22 - Climate change is throwing off the timing of key events in the natural world, from the flowering of plants to the migrations of birds and mammals. Now, ecologists are warning that this could spiral...
22 Jun 22 - A new US study analyses the cost of reactive nitrogen emissions from fertilized agriculture and their risks to populations and climate.
22 Jun 22 - A total of 18 independent studies produced since 2019 — including by the IPCC, IEA and McKinsey — have ruled out hydrogen playing a major role in the heating of buildings, according to a list...
21 Jun 22 - Global "food miles" emissions are higher than previously thought – accounting for nearly one-fifth of total food-system emissions – new research suggests.
21 Jun 22 - Architect Carlo Ratti is among a group of MIT researchers exploring the feasibility of fighting climate change with a conglomeration of "space bubbles" that would float above the Earth to reflect the...
21 Jun 22 - Researchers at the Imperial College London have discovered that biogas and biomethane leak up to twice as much methane as previously thought, despite being more climate-friendly.
17 Jun 22 - Long met with skepticism, the idea of capturing carbon dioxide from air and from industrial smokestacks is now accepted as necessary to avoid the worst impacts of climate change. Capturing carbon at...
16 Jun 22 - Carbon storage capacity in forests across the globe is only at 88% of its potential, according to a study published in Proceedings of the National Academy of Sciences (PNAS), which sets out to help...
13 Jun 22 - Scientists have for the first time used satellite data to detect a major offshore leak of the potent greenhouse gas methane, according to peer-reviewed research.
2 Jun 22 - Greenhouse gases trapped 49 percent more heat in 2021 than in 1990, as emissions continued to rise rapidly, according to NOAA.
2 Jun 22 - Climate change is altering rainfall patterns, making storms more intense in many locations. Meanwhile, more people are moving to cities around the world. The combination of those two trends adds up...
---