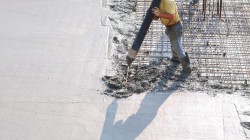 22 Jul 21 - A group of UK architects, developers and contractors have called for compulsory whole-life carbon assessments of buildings in a bid to tackle "hidden" emissions caused by construction supply chains.

19 Jul 21 - Climate change is driving a large increase in intense, slow-moving storms, a new study by Newcastle University and the Met Office has found.

1 Jul 21 - E-bike sales outstripped electric car sales in 2020, according to the United Kingdom's Bicycle Association.

25 Jun 21 - THE Welsh government is freezing new road-building projects as part of its plans to tackle the climate emergency, and an external panel will review all proposed schemes.

25 Jun 21 - Northern Ireland's red meat sector is opposing moves towards a net-zero emissions target of 2045.

23 Jun 21 - The UK aviation industry has announced carbon targets that allow emissions from planes to increase into the mid-2030s.

18 Jun 21 - In a searing indictment of its failure to act fast enough to prepare for the onslaught of rising heat, there is condemnation of the British government by its independent advisers for the UK's "really shocking" climate record.
---
10 Jun 21 - Sales of halogen lightbulbs are to be banned in the UK from September, with fluorescent lights to follow, under government climate change plans.
9 Jun 21 - Britain's banks and insurers will be tested on how well-prepared they are to cope with climate change emergencies.
27 May 21 - Hybrid Air Vehicles (HAV), which has developed a new environmentally friendly airship and hopes to be flying between European cities by 2025.
25 May 21 - Britain's biggest fund manager has piled pressure on Shell after joining a shareholder rebellion over the oil company's carbon-cutting plans, saying that they lack credibility and the ambition...
30 Apr 21 - Would you like cool homes and hot water without paying to power them? They're already working in the laboratory - reports Tim Radford of the Climate News Network.
27 Apr 21 - Six Extinction Rebellion protesters have been cleared of causing criminal damage to Shell's London headquarters despite the judge directing jurors they had no defence in law.
14 Apr 21 - The world's wealthy must radically change their lifestyles to tackle climate change, a report says.
8 Apr 21 - In Bath, England, even the smallest investors can support – and profit from – the city's green energy boom.
8 Apr 21 - Wealthy frequent flyers who take several holidays a year should pay higher taxes each time they fly, a British charity says.
7 Apr 21 - The UK government must ban the sales of peat compost this year after its goal of a voluntary phaseout by 2020 proved an "abject failure", according to a group of gardening experts, conservationists...
31 Mar 21 - Prominent scientists and lawyers have said Britain's decision to ignore the Paris climate agreement when deciding on major infrastructure projects undermines its presidency of UN climate talks this...
24 Mar 21 - Supporters of Northern Ireland's first climate bill say it is an "historic moment".
---