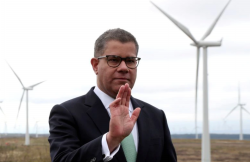 Friday - Climate change talks this year aimed at keeping global warming in check need to consign coal power to history, the British president of the upcoming United Nations' conference says..

Thursday - When it comes to climate change, male consumers may get a bit more of the blame than their female counterparts. Men spend their money on greenhouse gas-emitting goods and services, such as meat and fuel, at a much higher rate than women, a new Swedish study found.
Wednesday - The rooting of feral pigs globally releases around 4.9 tonnes of carbon dioxide – the equivalent of 1.1 cars – a new study has found.
Wednesday - Only a small chunk of governments' recovery spending in response to the Covid-19 pandemic has been allocated to clean energy measures, according to the International Energy Agency, with the Paris-based organization forecasting that carbon dioxide emissions will hit record levels in 2023.

Wednesday - New research, using machine learning, helps project how the buildup of greenhouse gases will change clouds in ways that further heat the planet.

Tuesday - People around the world need a "global green deal" that would tackle the climate crisis and restore the natural world as we recover from the Covid-19 pandemic, a group of politicians from the UK, Europe and developing countries has said.

Tuesday - What's a ski slope without snow? That's the question on the lips of many climate scientists who fear that the future of winter sports is hanging in the balance. As global temperatures continue to rise, are we putting future Winter Olympic games, championships, and recreational snowsport at risk?
---
19 Jul 21 - Governments must step up their regulation of businesses to tackle the climate crisis, the former Bank of England governor Mark Carney has urged, because the financial free markets will not reduce...
16 Jul 21 - More than 100 developing countries have set out their key negotiating demands ahead of the COP26 climate meeting in Glasgow.
16 Jul 21 - As Moscow bakes in record heat, Vladimir Putin changes tune on climate change.
16 Jul 21 - Autistic people need extra help in going green say researchers behind a new study which argues for a more inclusive environmental agenda.
14 Jul 21 - Climate change should be treated with the same urgency as the COVID-19 pandemic, according to a just released study.
13 Jul 21 - A new study has predicted that climate change will significantly affect people's ability to work effectively if the goals of the UN Paris Agreement are not met.
12 Jul 21 - G20 finance leaders recognised carbon pricing as a potential tool to address climate change for the first time in an official communique on Saturday.
12 Jul 21 - Eight of the world's leading insurance and reinsurance companies on Sunday launched an alliance to help speed up a transition to a net zero emissions economy.
12 Jul 21 - More than 8 billion people could be at risk of malaria and dengue fever by 2080 if greenhouse gas emissions continue to rise unabated, a new study says.
12 Jul 21 - A proposal to make cargo ships pay for pollution is making waves.
9 Jul 21 - Corporations and nations are touting plans to suck greenhouse gases out of the air. But the crucial priority this decade is slashing emissions, the MIT Technology Review argues.
9 Jul 21 - European researchers have warned that the wave of pollution engulfing the globe could be nearing a tipping point. The waste plastic deluge could become an irreversible crisis.
---