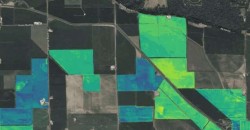 Friday - By some estimates, if the 1.2 billion acres of American agricultural land (more than half of the U.S. land base) transitioned towards regenerative farming practices, it could sequester up to 20 percent of the carbon required to reach the Biden administration's goal of fully offsetting America's carbon emissions by 2050.

Thursday - Jeff Bezos got as much morning show coverage in a day as climate change got all last year

Wednesday - In Big Sur, scientists are rescuing the abalone from landslides caused by the Dolan Fire, and moving them to safety in new neighborhoods where "resident abalone" already thrive

Tuesday - Former US Senator Tom Udall, a co-sponsor of the Green New Deal, has been named US Ambassador to New Zealand and Samoa.
16 Jul 21 - US legislators are drawing up plans for a tax on imports from carbon-polluting countries to help pay for a $US3.5 trillion ($4.7 trillion) package in new government spending on everything from universal childcare to an expansion of public healthcare benefits.

8 Jul 21 - A "game changing" 20-year effort suggests that even severely depleted marine ecosystems can be brought back to life.

8 Jul 21 - North America witnessed its hottest June on record battered by a deadly heatwave searing parts of the region, according to the European Union's climate monitoring service.
---
7 Jul 21 - Scientists say meltwater flooding will increase as the ice continues to retreat, but will eventually stop—when all the ice is melted and the glaciers are no more.
30 Jun 21 - Is climate change amping up the US Pacific Northwest heat wave? Yes — and it's time to stop asking.
24 Jun 21 - Some U.S. farmers are hoping to invest in a new cash crop, deep within the soil: Carbon
22 Jun 21 - The Florida Power and Light Company announced the building of a new solar power plant moments after blowing its last remaining coal-fired power plant.
18 Jun 21 - Aether Diamonds claims that for every one-carat diamond it makes it removes about 20 metric tons of carbon dioxide from the atmosphere.
17 Jun 21 - Two New York City-based artist-engineers have created a bot to highlight real news about climate change in a creative response to algorithm-driven social media newsfeeds that all too often prioritise...
10 Jun 21 - President Joe Biden's National Climate Adviser Gina McCarthy has said some of the administration's more ambitious proposals to fight climate change are likely to be dropped.
8 Jun 21 - The Growing Climate Solutions Act is garnering support on both sides of the US Senate and has the support of Big Ag and some environmental groups. Mother Jones asks whether it will really make a dent...
8 Jun 21 - Location, location, location: That's the deciding factor when it comes to the size of marijuana cultivation's carbon footprint, according to a new study out of Colorado State University.
4 Jun 21 - Investors have piled into new carbon-credit-trading funds, helping make the upstart market one of the best-performing commodities-related investments of the past year, The Wall Street Journal reports.
1 Jun 21 - When Eva Dawn Burk first saw the Calypso Farm and Ecology Center, tucked away in a boreal forest in Ester, Alaska, near Fairbanks, she was enchanted by what looked like a subarctic Eden.
1 Jun 21 - Accompanied by throbbing electronic music and the requisite fog machines, the electric Ford F-150 Lightning made its debut last week in Dearborn, Michigan, a potential turning point in the growth of...
---