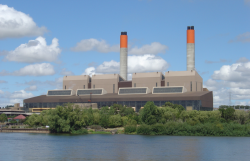 Monday - Genesis Energy has unveiled its plans to find a way forward using profits from the Kupe field to refresh Huntly as a lynchpin in the electricity network as it pushes towards 100% renewables.

15 Nov 23 - The energy sector's regulators need to be given explicit requirements to include climate change as part of their regulatory considerations, says Transpower.

9 Nov 23 - There is likely to be a strong backlash from the regulated lines companies at the Commerce Commission's initial views on their revenue path from 2025 to 2030.

27 Oct 23 - Manawa Energy is teaming up with Pioneer Energy on plans for a new 300 MW wind farm in South Otago, expected to cost $750m to $900m. And Meridian Energy and NZ Windfarms have agreed to a 50-50 joint venture to repower and extend the Te Rere Hau wind farm in Tararua.

24 Oct 23 - Genesis Energy told shareholders that its involvement with fossil fuels was a drag on its share price, but the market was slowly realising the role gas had in backing up renewable electricity for a long time to come.

17 Oct 23 - Meridian Energy has signed a memorandum of understanding with European-based Parkwind to explore offshore potential focused principally on the Taranaki coast and is still optimistic about getting its hydrogen project over the line.

16 Oct 23 - National has pledged to introduce an offshore wind regime that largely builds on work underway in the Ministry of Business, Innovation and Employment, but with a few nuances.
---
11 Oct 23 - A number of major generators have taken issue with the Electricity Authority's view that the risks around the thermal generation transition and managing dry years are low.
25 Sep 23 - Despite the rapid expansion of the Government's retrofitting housing for energy efficiency, there is still easily five years of work at the current pace to make a serious dent in improving New...
21 Sep 23 - New Zealand Green Investment Finance (NZGIF) has led a $170 million capital raise attracting international investors to launch its solar finance programme.
15 Sep 23 - Renewable electricity generation was at 91% for the June 2023 quarter - up 10% on the previous June.
12 Sep 23 - The Commerce Commission is seeking an explanation from the major fuel companies about anomalies in retail fuel pricing over the first year of monitoring under the new Fuel Industry Act regulatory...
8 Sep 23 - Channel Infrastructure reported increased profit and forecast higher dividends as it released its results for the six months ended 30 June 2023.
5 Sep 23 - New Zealand Oil & Gas reported a $19.1 million net profit after tax for the year to June 30, down from the previous year's $25.7m, reflecting spending associated with increasing oil and gas...
28 Aug 23 - After much talk and numerous announcements and re-announcements, it appears some grid-scale solar farms are finally nearing completion and others crawling closer to starting.
25 Aug 23 - Analysts are predicting the spot price of NZUs will rise to $150 by 2050 - a level they say will negatively affect some of New Zealand's big energy gentailers and encourage behavioural change from...
18 Aug 23 - Eighty-seven per cent of electricity generated over 2022 came from renewable sources, while total energy supply from renewables reached 44% - a record high according to the Ministry of Business,...
15 Aug 23 - New Zealand's second international hydrogen summit, in Wellington next month, will feature international speakers representing global shipping and aviation.
14 Aug 23 - Radical electricity market reforms including the separation of the major gentailers and the creation of a single buyer are two of the many, many options put forward in one of the Government's Energy...
---