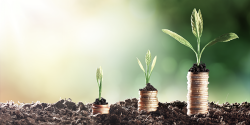 29 Jul 22 - PARTNER CONTENT | The government has accelerated its efforts to support businesses with the transition to clean energy and clever technologies. EECA is inviting applicants with large decarbonisation projects to apply now for contestable funding available for energy users looking to reduce the carbon emissions from their industrial processes.

13 Jun 22 - By Ian Llewellyn - Energy & Environment | The Infrastructure Commission believes that New Zealand has more than enough natural renewable energy resources to power the country's zero carbon emissions goals.

29 Nov 21 - After decades in which governments and industry groups have often assumed that the shift to renewable energy will be a financial burden, economists and analysts are increasingly making a case that the opposite is true: The transition will lead to cost-savings on a massive scale that will add to its momentum.

29 Sep 21 - New research predicts that green hydrogen — a clean fuel produced from water using renewables — will be comparable in cost and likely cheaper than blue hydrogen by 2030.

27 Sep 21 - Global fossil fuel subsidies amounted to $6 trillion in 2020, with more than 70 per cent reflecting "undercharging" for environmental costs, which makes it imperative to set the right price for fuels to reduce carbon emissions, the International Monetary Fund has said.

22 Sep 21 - Prices for coal are surging around the world as a shortage of natural gas spurs demand for the dirtiest fossil fuel to generate electricity.

14 Sep 21 - Norwegian company Wind Catching Systems is developing a floating, multi-turbine technology for wind farms that could generate five times the annual energy of the world's largest, single wind turbine.
---
27 Jul 21 - China, Russia and India are among countries resisting a timeline to phase out coal power generation, leaving it to leaders to resolve the impasse.
26 Jul 21 - The government is asleep at the wheel and should be pushing for the Marsden Point Refinery to be repurposed to produce bio-crude, the executive officer of the Bioenergy Association, Brian Cox, says.
26 Jul 21 - Hitting global climate target could create eight million energy jobs mainly in the renewable energy sector, a new study says.
26 Jul 21 - In a decade-long building boom of renewable energy, we've reached a milestone. There are now one billion watts of wind and solar installed across the world. That's about half the capacity of all coal...
23 Jul 21 - Firstgas has been ordered by the Advertising Complaints Authority to withdraw an advert that suggested customers could continue to use gas without contributing carbon to the atmosphere.
22 Jul 21 - Last week we published an article outlining the concerns of a coalition of zero waste and regenerative farming groups about the potential for biogas development to lock in unsustainable farming...
20 Jul 21 - The leading CEOs of the global wind industry have united to call on G20 members to show leadership in the climate crisis by raising national ambitions and urgently laying out concrete plans for...
11 Jun 21 - The first three months of this year saw the percentage of carbon spewing, coal-generated electricity double compared to the same period last year.
1 Apr 21 - The value of share offerings in fossil fuel companies has dropped by almost 20 per cent since 2012, while low-carbon companies gained ground in a shift towards clean energy, a report by think-tank...
29 Mar 21 - New Zealand could start using a hydrogen-blended gas by 2030 and 100 per cent "green" hydrogen by mid-century.
29 Mar 21 - Energy is the key to humanity's world domination. Not just the jet fuel that allows us to traverse entire continents in a few hours, or the bombs we build that can blow up entire cities, but the vast...
26 Mar 21 - Companies getting excited about using hydrogen as a major energy source need to listen to the warnings of experts, the Climate Minister says.
---