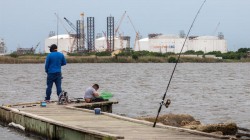 8 Sep 23 - The US, Germany and Italy have been accused of backsliding on a Glasgow promise to end public subsidies to fossil fuel projects overseas.

25 Jan 22 - COP26 President Alok Sharma has warned that progress made during the summit is at risk of "withering on the vine".

13 Dec 21 - Countries have until the end of next year to ensure their climate commitments meet the Paris agreement's cap on global warming. But who will check that their promises really do stack up?

9 Dec 21 - As all the environment correspondents are sick with COVID, reporter Jonathan Pie gets sent to the UN Climate Conference in Glasgow (aka COP26) despite knowing very little about the climate crisis. But he reckons he can wing it.

25 Nov 21 - In the aftermath of the United Nations' annual climate conference earlier this month, scientists have a sobering message: The world still is not on track to meet its international climate goals.

19 Nov 21 - The news from Glasgow includes positive announcements, in particular agreements to curb deforestation, cut methane emissions, "phase down" coal use and, next year, more aggressive emissions reduction targets. But a disturbing history of broken global climate promises — going back decades — compels us to ask: Will countries comply with their commitments, and what happens if they don't?

16 Nov 21 - The Glasgow Climate Pact is a step forward, researchers say, but efforts to decarbonize are not enough to limit global temperature rises to 2 °C.
---
16 Nov 21 - Carbon Brief provides an in-depth summary of all the key outcomes in Glasgow – both inside and outside the COP26.
16 Nov 21 - The United Nations Climate Change Conference in Glasgow (COP26) fell far short of what is needed for a safe planet, owing mainly to the same lack of trust that has burdened global climate...
15 Nov 21 - By Jeremy Rose Carbon News editor: They said it in Copenhagen, they said it in Paris, and numerous commentators said it about Glasgow too: This is the last chance saloon when it comes to averting...
15 Nov 21 - In this the final episode of the Glasgow Conversations, Alastair Thompson talks about the successes and failures of COP26, and ranks the various participants: Africa scores a 10 - Europe just 1.
15 Nov 21 - The Glasgow Climate Pact is the first ever climate deal to explicitly plan to reduce coal, the worst fossil fuel for greenhouse gases.
15 Nov 21 - The COP26 UN climate talks in Glasgow have finished and the gavel has come down on the Glasgow Climate Pact agreed by all 197 countries.
15 Nov 21 - As the COP26 summit ends, experts say there is reason to be "cautiously optimistic" about the work that's been done to avoid a climate disaster.
15 Nov 21 - It's too late for incremental change. By mobilising just 25% of people, we can flip social attitudes towards the climate, argues environmentalist George Monbiot.
15 Nov 21 - The curtain came down on United Nations climate talks a day later than expected. It's a strange feeling as representatives from countries around the world said they were willing to accept an...
15 Nov 21 - The COP26 summit approved a climate deal late Saturday evening. But the watered-down ambitions on the end of coal subsidies left many delegates frustrated, including Switzerland.
12 Nov 21 - On the second to last (scheduled) day of COP26, Alastair Thompson reflects on the summit so far, a talk by Ugandan activist Vanessa Nakate, and how Saudi Arabia and Australia could yet scuttle a...
12 Nov 21 - In the absence of meaningful policies from both China and the United States, this year's climate-change summit, COP26, was never going to deliver what the world really needs. Ultimately, getting both...
---