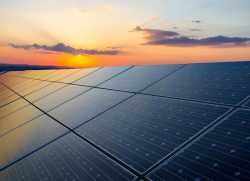 27 Nov 23 - The 4 million panels in the desert outside Abu Dhabi will reduce carbon emissions by 2.4 million tonnes per year and power 200,000 households.

24 Nov 23 - State planner NDRC sets new policy to calculate, label carbon footprints for 'key products' as EU moves toward carbon border tax.

14 Nov 23 - China's carbon dioxide emissions are set to fall in 2024 and could be facing structural decline, due to record growth in the installation of new low-carbon energy sources.
13 Nov 23 - Each part of the country should prepare for its own combination of extreme weather risks this winter, the China Meteorological Administration said.

10 Nov 23 - China published its long-awaited plan to tackle climate-warming methane on Tuesday, but included no firm targets for reducing those emissions - only goals for re-using them as fuel.

10 Nov 23 - China has asked exporters to report transactions of strategically important rare earth metals and oxide products, as economic security remains high on the agenda for policymakers.

19 Oct 23 - 'Major plan' will cover sustainable use of marine resources, biodiversity conservation and climate change, official says.
---
3 Oct 23 - As the political tension between China and the US continues, the Chinese government is enhancing the country's EV supply chain to avoid battery technology outflow and learn critical techniques from...
25 Sep 23 - China's climate envoy Xie Zhenhua has said that a global fossil fuel phase-out is unrealistic, dampening hopes that such an aim could be agreed at the COP28 climate talks.
25 Sep 23 - China's generosity to the electric vehicle sector when it comes to handing out subsidies has come under fresh scrutiny since the European commission announced an investigation into the matter.
12 Sep 23 - China's passenger vehicle sales returned to growth in August year-on-year, as deeper discounts and tax breaks for environmentally friendly and electric vehicles boosted consumer sentiment even as...
5 Sep 23 - More than 50 people are injured and hundreds are seeking shelter after Typhoon Saola made landfall in China's Guangdong province early Saturday morning.
1 Sep 23 - China's summer this year has seen both extreme heat and devastating floods.
22 Aug 23 - Batteries are the single most valuable part of an electric vehicle (EV), representing 30–45% of the cost for light duty vehicles and ~50% for heavy duty.
18 Aug 23 - While the U.S. and Europe have enacted sweeping policies to fight climate change in recent years, China has always had the potential to undermine those successes.
16 Aug 23 - China recently approved the construction of six more nuclear reactors, cementing its status as the world's fastest-growing nuclear power producer.
14 Aug 23 - Record heat and historic floods in China this summer have failed to ignite domestic public debate about how the world's top carbon polluter can mitigate climate change, leaving campaigners frustrated...
1 Aug 23 - Authorities have issued the highest weather alert as Beijing is hit with the remnants of typhoon Doksuri.
31 Jul 23 - China's increase in coal use is inflicting damage on its green credentials, given its progress in developing renewable energy.
---