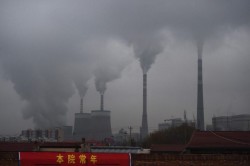 28 Jul 21 - China didn't finance any coal projects via its Belt and Road Initiative in the first half, the first time that's happened since the plan was launched in 2013, the International Institute of Green Finance said in a report.

23 Jul 21 - Last week, China announced the launch of its national carbon emissions trading market. How does it work?
19 Jul 21 - China's national carbon market, the largest emissions trading system in the world, made its debut on Friday with a turnover of 210 million yuan for carbon dioxide emissions on the first day
15 Jul 21 - China is set to launch its carbon emissions trading scheme this month.

14 Jul 21 - As unprecedented heatwaves sweep across large parts of the Northern Hemisphere, China is telling its people to brace for another summer of dangerous floods and droughts.

7 Jul 21 - China's top economic planning body has been put in charge of devising a plan for the world's biggest polluter to cut greenhouse gas emissions.

1 Jul 21 - China currently releases more carbon emissions than any other country — leading many to believe it bears the greatest responsibility for climate change. However, the situation is more complex than it seems.
---
15 Jun 21 - In the wake of the Government's feebate announcement, there's been plenty of talk about the lack of EV utes, but as MotorBiscuit reports there's always the niftily named CLZKC-009, costing just...
10 Jun 21 - China's top economic planners have put the brakes on attempts by environmental officials to reduce carbon emissions as driving growth takes priority over meeting climate targets for now.
27 May 21 - China plans to launch a nationwide carbon trading market by June, an official said on Wednesday, showing strengthening efforts to reach the country's ambitious goal of net-zero emissions by 2060.
20 May 21 - One of the most pressing challenges for China to meet its pledge to cap carbon emissions this decade and pivot toward renewables is overhauling its electricity grid, the world's largest, officials...
17 May 21 - China's Xinjiang region has evolved over the past two decades into a major production hub for many of the companies that supply the world with parts needed to build solar panels.
20 Apr 21 - Chinese President Xi Jinping slammed the European Union's plan for a carbon border levy in a call with the leaders of France and Germany on Friday (16 April), according to state media.
9 Apr 21 - When President Xi Jinping committed China to achieving carbon neutrality by 2060 at the UN General Assembly, this was good news for many, including electric vehicle manufacturers and the renewable...
8 Apr 21 - China powers nearly 80 per cent of the global cryptocurrencies trade, but the energy required could jeopardise its pledge to peak carbon emissions by 2030.
8 Mar 21 - China will cut energy intensity but has stopped short of setting a cap on energy use in its new development plan.
2 Mar 21 - Official Chinese government figures show energy, steel and cement consumption rose in 2020, pushing emissions up as Beijing is expected to reveal its 2025 targets.
12 Feb 21 - China's National Energy Administration is considering an increase in the ambition of the country's clean energy programme this decade.
11 Feb 21 - A Chinese government crackdown on producers and buyers of illegal CFC gases is working, research has found.
---