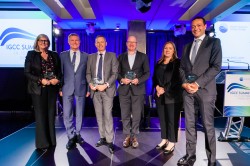 Friday - Media Release - The Investor Group on Climate Change (IGCC) is excited to announce the Climate Awards are now open for entries.

Thursday - Media Release - Greenpeace is calling foul on NZ Rugby's decision to sign a sponsorship deal with the oil and plastic polluting petrochemical giant INEOS.

Thursday - Media Release - It's Earth Overshoot Day again. Two years ago it was 26th July, last year, mostly due to Covid, Earth Overshoot Day was 22nd August, so globally the situation has slightly improved.

Tuesday - Media Release - A new campaign to stop the cutting down of mature trees in New Zealand's cities has launched today.

23 Jul 21 - Media Release - Environmental NGOs wrote to Southland District Council yesterday expressing deep concern over the Council's decision to grant an access arrangement to New Brighton Collieries Limited (NBCL), an overseas owned company, for coal exploration in the Ohai forestry area.

23 Jul 21 - Media Release - Mercedes-Benz is getting ready to go all electric by the end of the decade, where market conditions allow. Shifting from electric-first to electric-only, the world's preeminent luxury car company is accelerating toward an emissions-free and software-driven future.

23 Jul 21 - Media Release - The future of Samoa's electricity system could go green, a University of Otago study has shown.
---
21 Jul 21 - Media Release - University of Canterbury engineering researchers are developing a carbon-neutral – even carbon-negative – way to create clean 'green' hydrogen to power our world more sustainably.
21 Jul 21 - Media Release - "It's great to see the return of these forest giants," commented Daran Ponter, Chair of Greater Wellington, as he planted the first of 300 kahikatea on the Mataihuka block at Queen...
20 Jul 21 - Media Release - A new All-of-Government (AoG) office supplies contract – used by over a thousand government agencies – focuses on low-waste, sustainable products, and will deliver tangible economic...
19 Jul 21 - UN Media Release - Although a new European Union (EU) climate initiative unveiled on Wednesday could change global trade patterns to favour countries where production is relatively carbon efficient,...
16 Jul 21 - Media Release - The signing of a Memorandum of Cooperation on low-carbon hydrogen with Singapore signals the start of greater collaboration between the two countries as they transition towards low...
16 Jul 21 - Media Release - Leader of the Opposition Judith Collins says National's 'Demand the Debate' campaign has received unprecedented support since its launch on Sunday and has today released a video...
14 Jul 21 - Media Release - CarbonClick acquires German based sustainability app "Wonderflower".
14 Jul 21 - Media Release - Wellington City Council has secured almost half a million dollars in funding to roll out 30 electric vehicle (EV) fast-chargers across the capital.
13 Jul 21 - Media Release - Contact Energy (Contact) now has New Zealand's largest group of Sustainability Linked Loans (SLLs) after converting its remaining NZD$305m of bank facilities to SLLs.
12 Jul 21 - Media Release - New Zealand's interest in electric cars is accelerating, according to new research by financial comparison site, Finder.
9 Jul 21 - Media Release - Southland has the potential to both meet the New Zealand Government's 'net zero' emissions target by 2050 and retain a positive economic position, a new report shows.
9 Jul 21 - Media Release - Net Carbon Zero Certified* Beef, Regenerative Agriculture and the elimination of coal by 2030; today, Silver Fern Farms has committed to several bold initiatives to drive its vision...
---