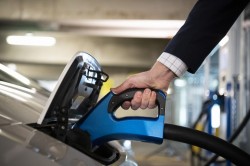 10 Dec 21 - The price of the batteries that power electric vehicles has fallen by about 90 percent since 2010, a continuing trend that will soon make EVs less expensive than gasoline vehicles.

24 Sep 21 - A commitment to cutting the city's GHG emissions has seen Wellington City Council greenlight consultation on a plan that will see 147km of cycle paths rolled out over the next 10 years.

25 Aug 21 - The world's biggest shipping company is investing $1.4bn (£1bn) to speed up its switch to carbon neutral operations, ordering eight container vessels that can be fuelled by green methanol as well as traditional bunker fuel .

20 Jul 21 - Canberra's e-bike library has been struggling to keep up with demand since it was launched last September.

1 Apr 21 - Rolls-Royce, Tecnam and Scandinavia's largest airline, Widerøe, have entered into a partnership that they say will see the launch of an all-electric aircraft for passengers by 2026.

30 Mar 21 - Royal Dutch Shell proposes linking its directors' pay more closely to the group's climate performance and severing the link between bonuses and liquefied natural gas production volumes.

22 Mar 21 - Food waste could be instrumental in producing sustainable aviation fuel, according to a recent study.
---
19 Mar 21 - Toyota New Zealand will continue to push for financial incentives for those buying electric vehicles when it responds to the ClimCom draft report.
19 Mar 21 - Japan's traditional car-making giants need to raise their game in the race to develop pure, battery-driven electric vehicles or risk being left behind by Chinese, American and European producers,...
19 Mar 21 - Gasoline demand may never recover to pre-pandemic levels, the International Energy Agency says, with increased use in developing countries offset by rising fuel efficiency and a switch to electric...
16 Mar 21 - New Zealand is failing to get transport emissions under control, as latest data shows. Energy expert and IPCC lead author Emeritus Professor Ralph Sims says there is lots we can do, including pushing...
16 Mar 21 - Green hydrogen is being touted as an alternative to fossil fuels in New Zealand. The Government has invested $8.4 million to explore its potential and $19.9 million in a hydrogen energy facility.
12 Mar 21 - New Zealand's transport emissions are at an all-time high.
12 Mar 21 - The United States Airforce B-52 bomber that flew over Wairarapa during last month's air show emitted as much carbon dioxide as 130 average mid-size cars emit per year in New Zealand.
11 Mar 21 - Shipping industry representatives, backed by several countries, have submitted a proposal to the UN to charge a climate-related levy on fossil fuels used by international shipping for the first time.
11 Mar 21 - When shipping giant Maersk announced last month it would operate a "carbon-neutral" vessel by 2023, the Danish company committed to using a fuel that's made from renewable sources, is free of...
1 Mar 21 - Planes sold by Airbus in 2019 and 2020 will produce well over a billion tonnes of carbon dioxide during their lifetimes, according to landmark first estimates of the aerospace manufacturer's...
26 Feb 21 - Despite the pandemic slamming the brakes on flying, UK-based engineering firm Rolls-Royce - whose main clients include the aviation industry - has not backed away from its work to slash...
19 Feb 21 - Taxes on international transport could provide finance to help developing countries cut greenhouse gas emissions and cope with the impacts of climate breakdown, a group of climate finance experts...
---