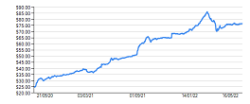 Today 11:45am - SPOT NZUs opened at $76.00 bid and $76.90 offered on CommTrade this morning, after last fixing at $76.60.

Today 11:45am - Discounting allegations of speculation on the EU carbon market, Berlin is throwing its weight behind a minimum price of €60 per tonne of CO2, saying it will ensure this through national measures if the EU does not take action.

Today 11:45am - A Western Australian company claims to have produced bioactives in a laboratory that could reduce livestock methane emissions by up to 95%.

Today 11:45am - By the time Pakistani schoolboy Saeed Ali arrived at the hospital in one of the world's hottest cities, his body was shutting down from heatstroke.

Today 11:45am - Australia's carbon offset market is showing signs of splitting in two, analysts say, as buyers show they are willing to pay a premium for "higher integrity" offsets.

Today 11:45am - As Australians head to the polls on 21 May, voters face a decision that could have significant consequences for the nation's efforts to cut emissions and transition its energy system.

Today 11:45am - In a world first, France's Cie. de Saint-Gobain said it produced carbon-neutral flat glass by using recycled materials and green energy.
---
Monday - Rising concerns over energy security and climate change will galvanize record new capacity to generate renewable power in 2022, the International Energy Agency has forecast.
Monday - The effects of climate change will put 9.06 crore [90 million] Indians at risk of hunger in the next eight years, according to the Global Food Policy Report 2022 on 'Climate change and food systems'...
Monday - The United Kingdom's bid to decarbonize its aviation industry—a plan that depends largely on self-regulation—is being described as "implausible and credulous," after a new report showed how little...
Monday - When Typhoon Haiyan struck the Philippines in 2013, it made a direct hit on the hometown of Yeb Saño's family. Saño,the country's chief climate negotiator at the time, had to attend the United...
Monday - The number of big polluters setting targets to cut CO2 emissions has reached a "critical mass", a UN-backed report has said.
Monday - California's carbon market was supposed to be a model for the US, harnessing the power of capitalism to fight climate change in the world's fifth-biggest economy.
Friday - Is it game over for our attempts to avert dangerous climate change? For millions of people in India and Pakistan the answer is clearly yes as they continue to suffer from a record-breaking spring...
Friday - A recent study estimates that green, social and sustainability bond issuance may reach €1.6tn in just four years, but also highlights concerns on standards and the liquidity of the market.
Friday - Solar players are now very willing to relocate to Europe again to cater for soaring demand as the continent tries to wean itself off Russian energy imports and meet climate targets, Carsten Körnig,...
Friday - The results of two studies published in the journals Science and Ecology Letters on May 12, 2022 – one focused on growth, the other on death – raise new questions about how much the world can rely on...
Friday - Making big promises at the COP26 climate summit in Glasgow was hard; six months later, governments are finding out that actually following through on them is even harder.
Friday - The Canadian government is in talks with heavy industrial emitters about ways to ensure Ottawa's planned carbon price increases will remain in place even if Prime Minister Justin Trudeau's Liberal...
---