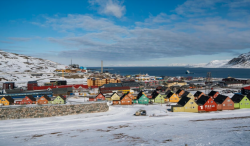 23 Jun 22 - Tor Selnes owes his life to a lamp. He miraculously survived a fatal avalanche that shed light on the vulnerability of Svalbard, a region warming faster than anywhere else, to human-caused climate change.

20 May 22 - The Kremlin's mineral explorer says it has found a stunning 500 billion barrels of oil and gas below the Southern Ocean's climate-threatened waters. Tapping these mooted reserves would not only hamper global efforts to fight the climate crisis. Known for flouting major agreements, a defiant Russia in the Antarctic could destroy the decades-long protected status of Earth's last unmined frontier.

29 Mar 22 - A New-York-City-sized ice shelf has collapsed in East Antarctica, much to the alarm of scientists who thought the region was substantially protected from the impacts of climate change, unlike the more vulnerable western reaches of the continent.

24 Mar 22 - Arctic sea ice has reached its maximum extent for the year, peaking at 14.88m square kilometres (km2) on 25 February. It is the 10th smallest winter peak in the 44-year satellite record.

23 Feb 22 - As surging global temperatures alter the landscape of the Arctic, scientists are observing what's shaping up to be a new record at the other end of the globe.
4 Feb 22 - Antarctica's so-called Doomsday Glacier, nicknamed because it is huge and coming apart, is mostly thwarting an international effort to figure out how dangerously vulnerable it is.

2 Aug 21 - Greenland is experiencing its most significant melting event of the year as temperatures in the Arctic surge. The amount of ice that melted on Tuesday alone would be enough to cover the entire state of Florida in two inches of water.
---
27 Nov 20 - Kiwi singer Lorde has written an impassioned entreaty for the world to face the climate emergency head-on after visiting Antarctica.
6 Oct 20 - By the end of this century Greenland's ice loss will probably be higher than in any century during the last 12,000 years.
17 Sep 20 - Change in the far north is happening so fast that soon the Arctic won't be arctic any more.
28 Aug 20 - Approximately 60% of Antarctica's ice shelves could be vulnerable to fracture, accelerating the loss of the Antarctic ice sheet and increasing sea-level rise, according to a paper.
18 Aug 20 - Greenland's ice sheet has reached the point of no return and would continue to melt even if the climate crisis were halted, scientists are warning.
28 Jul 20 - Shocking evidence suggests that the last time the East Antarctic ice sheet collapsed, it added more than three metres to sea level rise, and that it's likely to happen again.
27 Jul 20 - AN INTERNATIONAL team of scientists has pinned the strange weather and record heat in the Siberian Arctic firmly on human-induced climate change.
23 Jul 20 - Researchers have long known that polar bear populations will almost certainly suffer as a result of climate change. But a new study projects that by the end of the century, the bears may exist only...
22 Jul 20 - Australia wants to build a 2.7km concrete runway in Antarctica, the world's biggest natural reserve. The plan, if approved, would have the largest footprint of any project in the continent's history.
17 Jul 20 - Since Western explorers discovered Antarctica 200 years ago, human activity has been increasing. Now, more than 30 countries operate scientific stations in Antarctica and more than 50,000 tourists...
13 Jul 20 - Frozen ground in the Arctic is thawing, harming indigenous people's hunting livelihoods and destabilising buildings and roads across the rapidly warming region.
6 Jul 20 - Jules Verne sent his fictional submarine, the Nautilus, to the South Pole through a hidden ocean beneath a thick ice cap. Written 40 years before any explorer had reached the pole, his story was...
---