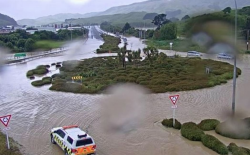 10 Nov 23 - As New Zealanders face the rising environmental, social and economic costs of severe weather events like Cyclone Gabrielle, a work programme to improve natural hazard risk management under the Resource Management Act 1991 (the RMA) has begun.

8 Sep 23 - Make it coherent and have the Prime Minister take the lead: Those are two pieces of advice the Parliamentary Commissioner for the Environment wants the incoming government to take to heart when formulating plans to cut emissions.

30 Aug 23 - The Ministry for Primary Industries is consulting on recognising space-plantings and exotic hardwoods in the New Zealand Emissions Trading Scheme.
24 Aug 23 - A law change means the government is no longer required to actively "promote" prospecting, exploration, and mining of minerals such as fossil fuels.

17 Aug 23 - Activists are claiming a climate bill update as a significant win against big polluters - with 800,000 tonnes of subsidised carbon dioxide pollution now cut from free allocations.

16 Aug 23 - Climate Change minister James Shaw has called for a select committee inquiry into community-led retreat and adaptation funding in the face of climate-fuelled disasters.

11 Aug 23 - A senior public sector consultant has suggested that New Zealand might want to consider being a fast follower of the European Union's moves to implement a carbon tariff.
---
10 Aug 23 - The Government has launched consultation on New Zealand's transition towards a low emissions economy, with five streams of energy policy out for feedback.
8 Aug 23 - The Parliamentary Commissioner for the Environment has criticised the government's draft plan for sustainable tourism, saying it is short on detail, particularly around plans for decarbonisation.
1 Aug 23 - The government has introduced a "tidy-up bill" to Parliament, to change the Climate Change Response Act 2002 administered by the Ministry for the Environment.
27 Jul 23 - The Ministry for Primary Industries is consulting on two forestry-related issues, with the deadline for one just a week away.
23 Mar 23 - The government has announced it is reviewing the Emissions Trading Scheme to see whether it can play a stronger role in driving New Zealand's climate response.
25 Aug 21 - The government is set to launch a consultation document on its emission reduction plan, possibly as soon as next week.
17 Aug 21 - Eighty-five percent of public organisations responding to a Ministry for the Environment survey admitted to not documenting how climate change will impact their ability to carry out their functions.
9 Jul 21 - Participants in the NZ ETS could have limits set on the number NZUs they are holding and be required to disclose their stockpiles under proposals being considered by the Government.
7 Apr 21 - New regulations requiring the financial sector to disclose the greenhouse gas emission of their investment portfolios are needed, the Sustainable Business Network says in its submission to the...
6 Apr 21 - An NZU price of $50 is all that's needed to deliver net-zero emissions by 2050, according to the NZ Initiative.
31 Mar 21 - Fuel retailer Z Energy says the Climate Commission's advice on raising the cost containment trigger price of NZUs risks participants stockpiling NZU, affecting liquidity.
30 Mar 21 - Government intervention is likely to be needed to encourage greater investment in green bonds, the Reserve Bank says.
---