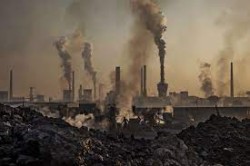 Tuesday - The build-up of warming gases in the atmosphere rose to record levels in 2020 despite the pandemic, according to the World Meteorological Organization.

Tuesday - THERE have been 25conferences under the United Nations Framework Convention on Climate Change since the body first met in 1995. Over that period, some 894 billion metric tons of carbon dioxide, about 37% of all greenhouse pollution in human history, has been emitted.

Tuesday - The real disaster scenario begins with the triggering of invisible climate tripwires known as tipping points.

Tuesday - Sheltered by snow-spattered mountains, the Stordalen mire is a flat, marshy plateau, pockmarked with muddy puddles. A whiff of rotten eggs wafts through the fresh air.

Tuesday - India is seeking payment for the losses caused by climate disasters, its environment ministry said while laying out the country's positions on critical issues that will be negotiated at the United Nations' COP26 climate summit in the coming weeks.

Tuesday - The global shipping industry is on course to see its greenhouse gas emissions rise by around a fifth by 2050 if action including introducing a carbon levy on fuel is not taken, new research backed by industry leaders shows.

Friday - A huge leak of documents seen by BBC News shows how countries are trying to change a crucial scientific report on how to tackle climate change.
---
Friday - Around 70% of the world's top sustainability experts remain pessimistic about the future of the planet and humanity's ability to avert disasters due to climate change. In a new poll, the experts...
Friday - The European Parliament yesterday passed a resolution calling for a binding international agreement limiting methane emissions to be agreed on at next month's COP26 in Glasgow.
Friday - The head of environmental group Greenpeace on Thursday warned against efforts by countries and corporations at the forthcoming U.N. climate talks in Glasgow to "greenwash" their ongoing pollution of...
Friday - Soaring sales of electric vehicles (EVs) in China are driving the global trend away from combustion engines, the latest figures show.
Friday - French oil company TotalEnergies knew at least 50 years ago about a link between burning fossil fuels and global warming, researchers have said.
Thursday - A UN report says governments are currently planning to extract more than double the amount of fossil fuels by 2030 required to keep the 1.5C threshold alive.
Thursday - Fossil-fuel subsidies are one of the biggest financial barriers hampering the world's shift to renewable energy sources. Each year, governments around the world pour around half a trillion dollars...
Thursday - EUROPEANS want urgent action on climate change but remain committed meat-eaters and question policy proposals such as banning the sale of new petrol vehicles after 2030, according to a new poll from...
Thursday - Australia-based mining giant Rio Tinto has announced plans to cut direct carbon emissions 50 percent by 2030, ramping up previous targets as the firm tries to green its highly polluting operations.
Thursday - Twelve years ago, at a United Nations climate summit in Copenhagen, rich nations made a significant pledge. They promised to channel US$100 billion a year to less wealthy nations by 2020, to help...
Thursday - US carbon exchanges will easily hit record volumes this year, in part because of recent record highs but also due to new entrants into the market.
20 Oct 21 - The director general of the World Trade Organisation has said that it should work together with other international bodies to develop a global price for carbon.
---