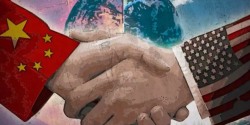 Today 10:30am - Concern has been raised by China's decision to stop working with the US on the climate catastrophe, and seasoned climate diplomats are calling for a quick restart of negotiations to help prevent worsening global warming.

Today 10:30am - On 25 April 2022 Australia's public radio station replayed an interview with Jonathan Franzen in which the American author suggested we should resign ourselves to the climate crisis. "We literally are living in end times for civilisation as we know it… We are long past the point of averting climate catastrophe," he intoned ominously.

Today 10:30am - Boats moor next to living rooms on Fiji's Serua Island, where high tide breaches the seawall and floods the village.

Today 10:30am - Legislators on Capitol Hill will soon vote on the biggest climate crisis bill in U.S. history. It's sparked a lively debate in its northern neighour where Canadians are questioning whether the time has come to tackle big oil.

Today 10:30am - Australian Institute of Marine Science says results in north and central regions are a sign the reef could still recover, but loss elsewhere highlights risks

Today 10:30am - The UK's largest steelworks is facing "crunch time" over reducing carbon emissions, a professor has warned.

Friday - A new study has found an alarming loss in forest areas globally, including that global forest area per capita has dropped from 1.4 hectares in 1960 to just 0.5 hectares per person by 2019, a 60% decline.
---
Friday - African climate negotiators have quashed a proposal by the African Union to promote gas as a bridge fuel for the continent at UN talks.
Friday - A new study warns that unprecedented events — disasters so extreme that communities haven't experienced anything like them before — are stymieing attempts to prepare for them. Risk management...
Friday - The Western US is an empire built on snow. And that snow is vanishing.
Friday - India is developing its carbon market by undergoing several climate action plans in just a matter of days. The world's 3rd-biggest emitter planned to set up a carbon credit market for the...
Friday - In 2019, the playwright Dawn King was booking flights to New York for a writing residency. It was the day of the UK's first large-scale School Strikes for Climate, a movement launched by Greta...
Thursday - Global renewable energy investment reached a record $US226 billion across the first six months of 2022, an 11% year-on-year increase which defied supply chain challenges and cost inflation to...
Thursday - The tantalizing idea behind solar windows is that the vertical surfaces on the outside of just about any building could unobtrusively generate electricity.
Thursday - Compared to 2021, cycling levels in England rose by 47% on weekdays and 27% on weekends in the five months to the end of July, according to the latest statistics from the U.K.'s Department for...
Thursday - The climate deal reached last week by Senate Democrats could reduce the amount of greenhouse gases that American farmers produce by expanding programs that help accumulate carbon in soil, fund...
Thursday - India's cabinet has approved an updated national climate plan, cementing targets pledged by Narendra Modi in November, including a 2070 net zero goal and 45% reduction in emissions intensity by 2030.
Thursday - When Jeff Wells, vice president for boreal conservation at the Audubon Society, first encountered the call of the common loon on a pond near Mt. Vernon, Maine — about an hour and a half north of...
Wednesday - The Biden administration is providing states with more detail about how they can use money from the federal infrastructure law to protect people and structures from the perils of climate change, a...
---