Letters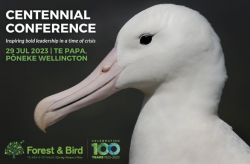 27 Jul 23 - Paul Callister, a climate change policy researcher at Victoria University's Institute for Governance and Policy Studies, and Massey University mathematician Robert McLachlan - both long-time supporters of Forest & Bird - say they are "deeply concerned" that the organisation is giving the aviation industry a platform for greenwashing at the upcoming conference.
16 Feb 23 - Beef + Lamb New Zealand respond to a Carbon News story about its support for a tour of New Zealand by US academic Dr Frank Mitloehner who the New York Times has reported receives millions of dollars in funding from the meat industry in the United States.

10 Sep 20 - India's Adani Group – the owners of the highly controversial coal project in Queensland's Galilee Basin – is now the world's leading solar power generation asset owner in terms of operating and off-taker contracted solar projects, new figures show.

25 Jan 18 - It is good to see Environment Associate Minister Eugenie Sage providing a lead from the top with regard to addressing our waste.

24 Jan 18 - In recent months, our local supermarket has been purchasing silver beet wrapped in plastic.

23 Jan 18 - Re: your article about Eugenie Sage and our waste problem.
Your IP address: 35.175.107.142