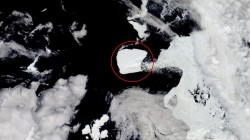 29 Nov 23 - The gigantic iceberg A23a, which broke off from Antarctica in 1986, is finally moving away from the icy continent after being stuck on the seafloor for decades.

25 Oct 23 - A study has found melting of the West Antarctic Ice Sheet will continue to accelerate this century, at a speed three times faster than during the 20th century.

4 Oct 23 - New Zealand scientists are calling for an immediate and dramatic reduction in greenhouse gas emissions, in response to record low sea ice levels in Antarctica this year.

19 Sep 23 - The sea-ice surrounding Antarctica is well below any previous recorded winter level, satellite data shows, a worrying new benchmark for a region that once seemed resistant to global warming.

13 Sep 23 - Lawyers said it was impossible to tie a specific dose of greenhouse gases to polar bear survival. They were wrong.

8 Sep 23 - Study finds 'direct evidence' of polar amplification on continent as scientists warn of implications of ice loss.

28 Aug 23 - Europe's largest wooden schooner will set sail on a pioneering research mission, to build greater scientific understanding of the marine environment in the Arctic and how climate change is affecting oceans.
---
9 Aug 23 - Record low sea ice levels, the collapse of ice shelves, and surface temperatures 38.5C above average cited as concerns in new review.
31 Jul 23 - As red-hot oceans amplify deadly heat waves, storms and floods on land, exactly what's going on beneath the waves remains a big unknown.
25 Jul 23 - This winter has confirmed what scientists had feared — the sea ice around Antarctica is in sharp decline, with experts now concerned it may not recover.
7 Jul 23 - Climate change has exposed a new source of methane in the Arctic: groundwater springs.
8 Jun 23 - In a new study, scientists found that the climate milestone could come about a decade sooner than anticipated, even if planet-warming emissions are gradually reduced.
31 May 23 - Antarctica's sea ice is now reforming as the continent moves deeper into the austral winter, but it's currently the smallest it has ever been for this time of year on record.
11 May 23 - The Far North (Arctic) is both a massive carbon sink and a potent environmental time bomb. The region stores a huge amount of CO2 in boreal forests and underlying soils.
1 May 23 - Climate change is warming the Arctic up to 7 times faster than the rest of the planet. And it's threatening peace as well as the wildlife.
1 May 23 - Researchers say they have mapped the world's largest known cumulative logjam in the Canadian Arctic and it holds millions of tonnes of carbon, representing an important but understudied part of the...
22 Dec 22 - A typhoon, smoke from wildfires and increasing rain are not what most imagine when thinking of the Arctic. Yet these are some of the climate-driven events included in a detailed annual update on the...
18 Oct 22 - By the end of this century, permafrost in the rapidly warming Arctic will likely emit as much carbon dioxide and methane into the atmosphere as a large industrial nation, and potentially more than...
13 Oct 22 - Icebergs bigger than city blocks loom through the mist as Kaleeraq Mathaeussen reels in halibut from the frigid waters one by one.
---