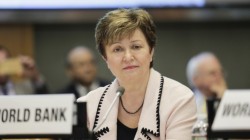 Today 10:30am - The head of the International Monetary Fund on Sunday underlined the case for carbon pricing at the COP28 climate summit.

Today 10:30am - OPINION: The oil and gas industry wants you to believe it can capture its emissions and keep drilling as usual. That's no way to avert climate chaos.

Today 10:30am - Climate advocate and former US Vice President Al Gore slammed the UAE - host of the COP28 climate summit - saying its position as overseer of international negotiations on global warming this year was an abuse of public trust.

Today 10:30am - UK prime minister rejects suggestion half-day stay shows lack of 'seriousness.' Rishi Sunak defended his decision to only attend COP28 for a half a day, saying it would be wrong to "measure our impact here by hours spent."

Today 10:30am - Brazil's President Lula made important contributions to COP28 in demanding that the 1.5°C temperature increase limit be respected, in recognising the risk of Amazon forest collapse, and in promising to end Brazil's Amazon deforestation by 2030.

Today 10:30am - As global leaders and delegates gather in Dubai for the annual UN climate summit, a new analysis shows how the host cities of previous summits could be inundated — if not entirely submerged — by rising ocean waters.

Monday - Over $12 billion pledged for Green Climate Fund; 118 countries commit to tripling renewable and double energy efficiency by 2030.
---
Monday - Israel's assault on Gaza resumes the day after the summit reaches an agreement over a long-sought rehabilitation fund.
Monday - Vice President Kamala Harris announced COP28 that the US is pledging $3 billion to the Green Climate Fund — the world's largest climate fund — created to help developing countries handle climate...
Monday - UAE's Sultan Al Jaber says phase-out of coal, oil and gas would take world 'back into caves'.
Monday - The US government and the oil industry have announced plans to drastically reduce emissions of methane, one of the most dangerous GHGs, due to its heightened ability to raise global temperatures.
Monday - A report by XDI reveals that 1 in 12 hospitals worldwide could face shutdowns due to extreme weather events from climate change.
Friday - COP28 climate summit head Sultan Ahmed al-Jaber notched a win on the first official day of talks in Dubai, with the adoption of an agreement to set up a "loss and damage" fund to help developing...
Friday - As carbon credits face intense scrutiny, negotiators will wrangle over how to ensure the integrity of a new global carbon market.
Friday - In a recent review of more than 180 peer-reviewed articles — which I conducted with fellow researcher Richard Parncutt — we found that a scientific consensus has formed around the so-called 1,000-ton...
Friday - Nature could hold the key to protecting humanity as the planet heats, but scientists say it is still an underused option.
Friday - The year 2023 is already expected to be the hottest on record, following a record-hot summer. But despite this, the US is expected to reach record numbers in fossil fuel production for the year.
Friday - Australia's climate change ambassador says the federal government cannot yet back the Pacific's call to rapidly phase out fossil fuels because it's grappling with "complex" and "difficult" issues...
Thursday - Polluting livestock companies and lobby groups will target pavilions in a coordinated campaign at the UN climate summit, documents show.
---