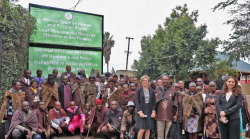 Tuesday - The Republic of Kenya must pay the Indigenous Ogiek people reparations for decades of illegal evictions from their ancestral land in the Mau Forest.

Monday - Commonwealth leaders last week adopted the "Living Lands Charter", which commits all member countries to safeguarding global land resources while taking coordinated action on climate change, biodiversity loss and sustainable land management.

7 Jun 22 - As the developed world demands emissions cuts, the continent's leaders are asking whether it is possible to industrialize on green energy alone.

31 May 22 - As food and energy security emerge as top priorities in several regions, an innovative use of existing technologies might help serve both: Agrivoltaic projects allow energy production and agricultural activity on the same land, potentially increasing farming productivity.

26 May 22 - Carbon offsets have been criticised for failing to provide carbon savings and ignoring the needs of local communities. But in Tanzania, hunter-gatherer tribes are earning a good return for their carbon credits and protecting their forests from poachers and encroaching agriculture.

24 May 22 - Failing to conserve the carbon-rich forests of the Congo Basin would mean the world loses the fight against climate change, officials in Gabon have warned.

9 May 22 - In a bid to protect coastal communities from climate change and encourage investment, African nations are increasingly turning to mangrove restoration projects, with Mozambique becoming the latest addition to the growing list of countries with large scale mangrove initiatives.
---
5 May 22 - Cabinet ministers in the Democratic Republic of Congo have approved the auction of 16 oil blocks, including in one of the world's largest carbon sinks and most environmentally sensitive areas.
4 May 22 - The leaders of the Economic Community of West African States (ECOWAS), a regional, political and economic union of west African countries, recently agreed to spend $294 billion over the next 10 years...
22 Apr 22 - The climate is surely one area where the European Union and African Union should be in step with one another. Curbing global warming and agreeing how to produce clean power would help keep more of...
19 Apr 22 - A group of climate change organisations have filed criminal complaints against the South African President Cyril Ramaphosa, and a number of prominent cabinet ministers, accusing the government...
12 Apr 22 - Climate change amped up the rains that pounded southeastern Africa and killed hundreds of people during two powerful storms in early 2022.
4 Apr 22 - Nestlé, the world's largest food company, is supporting farmers in its supply chain to farm more sustainably and help reduce the carbon footprint of the value-added products that it produces.
29 Mar 22 - In some parts of the region, famine is now not just a threat, it is waiting, says UNICEF's regional director for Eastern and Southern Africa Mohamed Fall.
25 Mar 22 - The climate crisis is threatening food stocks in sub-Saharan Africa, but a comprehensive approach to food, farming and resources could increase crop production by more than 500% in some countries in...
7 Mar 22 - The eradication of hunger and malnutrition in Africa will only be realized once governments leverage nature-based interventions to strengthen the resilience of farming systems in the face of climatic...
4 Mar 22 - A major European logging firm may have illegally converted more than a dozen of its timber concessions in the Democratic Republic of the Congo into so-called conservation concessions, a new...
1 Mar 22 - When drought ravaged her sorghum and bean crops five years ago, Kenyan farmer Ngina Kyalo did not need to stand in line for food handouts, as in previous years when the rains failed.
28 Feb 22 - African countries are having to spend up to five percent of their annual economic output to shield themselves against the impacts of climate change, even though they emit the least greenhouse gases...
---