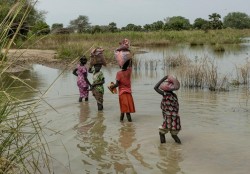 20 Jun 22 - Rich countries including the European Union and the United States have pushed back against efforts to put financial help for poor nations suffering the devastating effects of global warming firmly on the agenda for this year's U.N. climate summit.

26 Jan 22 - Norway's scheme to reduce emissions from deforestation in Indonesia made only a tiny dent in meeting the nation's climate target – but the forest nation deserved to have been paid more for it, a study has found.

15 Dec 21 - Denmark will allocate 16 billion Danish crowns (US$2.43 billion) towards carbon capture and storage subsidies over the coming decade in a move to reach one of the world's most ambitious climate targets, its government has announced.

13 Dec 21 - Countries have until the end of next year to ensure their climate commitments meet the Paris agreement's cap on global warming. But who will check that their promises really do stack up?

10 Dec 21 - How a blind spot in the Kyoto Protocol helped create the biomass industry.

24 Nov 21 - Waikato University associate professor of law Nathan Cooper says the Emissions Reduction Plan provides the perfect opportunity to align New Zealand's national and international climate targets.

16 Nov 21 - Carbon Brief provides an in-depth summary of all the key outcomes in Glasgow – both inside and outside the COP26.
---
16 Nov 21 - The United Nations Climate Change Conference in Glasgow (COP26) fell far short of what is needed for a safe planet, owing mainly to the same lack of trust that has burdened global climate...
15 Nov 21 - The Glasgow Climate Pact is the first ever climate deal to explicitly plan to reduce coal, the worst fossil fuel for greenhouse gases.
12 Nov 21 - The tightest of smiles on his face and the fabric of his traditional thobe swirling about him as he strides through a hallway at U.N. climate talks, Saudi Arabia's energy minister expresses shock at...
11 Nov 21 - On day 10 of COP26, Alastair Thompson is there when the US and China announce what he believes to be the most significant news of the summit to date.
11 Nov 21 - Leaders in Sabah, a Malaysian state on the island of Borneo, have signed a profit-sharing deal to market carbon and other natural capital from more than 2 million hectares (4.9 million acres) of the...
9 Nov 21 - On day 8 of COP26, Alastair Thompson attends a Barak Obama talk, a briefing by climate change minister James Shaw, and delves into the important but mind numbingly complicated world of climate...
9 Nov 21 - UN climate talks have entered their final week with countries still worlds apart on key issues including how rapidly the world curbs carbon emissions and how to help nations already impacted by...
8 Nov 21 - A leaked Cabinet paper has revealed climate change minister James Shaw failed to convince Cabinet to include agriculture in New Zealand's net zero commitments, and that Treasury and MBIE both opposed...
8 Nov 21 - As COP26 enters its second week, Alastair Thompson talks to Jeremy Rose about the week that's been and the one to come.
4 Nov 21 - Al Gore, the former vice president of the U.S. and the chairman of Generation Investment Management LLP, said the world is witnessing a sustainability revolution and warned that investors caught on...
4 Nov 21 - President Biden took a math problem to Glasgow. He and his advisers have spent the first two days of the international climate conference known as COP 26 trying to persuade world leaders that U.S....
1 Nov 21 - The government yesterday announced a more ambitious Nationally Determined Contribution that will see the "the amount of pollution NZ is responsible for" halved by 2030.
---